'Star Wars: The Last Jedi' Vanity Fair Covers Offer New Looks At Mark Hamill, Carrie Fisher & More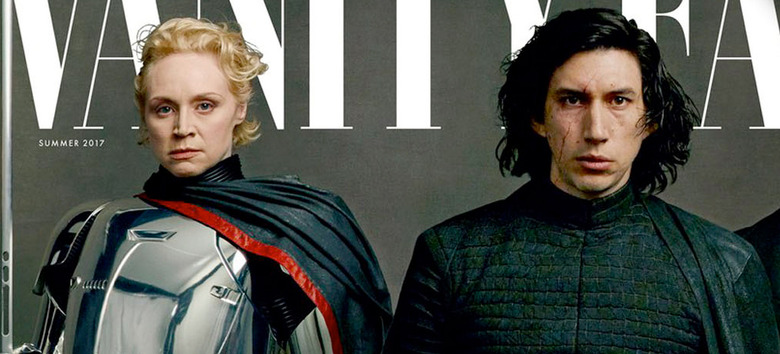 Since the official 40th anniversary of the original Star Wars is coming this week on May 25, it looks like we're going to get some special sneak peeks at this year's continuance of the sci-fi saga, Star Wars: The Last Jedi.
The first teaser trailer arrived during Star Wars Celebration in Orlando last month, but now fans are hungry for even more. They'll get it this week, as Vanity Fair has announced they'll have a batch of photos from the set of the movie arriving on Wednesday, May 24, just as they did for Star Wars: The Force Awakens.
To tease the arrival of these photos, Vanity Fair has released four different Star Wars: The Last Jedi covers that provide new looks at Rey (Daisy Ridley), Luke Skywalker (Mark Hamill), General Leia (Carrie Fisher), Kylo Ren (Adam Driver), Poe Dameron (Oscar Isaac), Finn (John Boyega), General Hux (Domhnall Gleeson), Captain Phasma (Gwendoline Christie) and new character Rose Tico (Kelly Marie Tran).
Check out the Star Wars The Last Jedi Vanity Fair covers below.
Famed photographer Annie Leibovitz is behind the new photos that will appear in Vanity Fair, and hopefully they'll provide some insight into Star Wars: The Last Jedi. However, when the Vanity Fair photos for Star Wars: The Force Awakens arrived, they really only provided aesthetically pleasing looks at the characters themselves rather than giving us any new information about them.
Still, at this point fans are happy to get their hands on any new material that shows off anything we haven't seen from the Star Wars sequel. As expected, these photos don't reveal much new information, but let's point out what we do notice in these photos.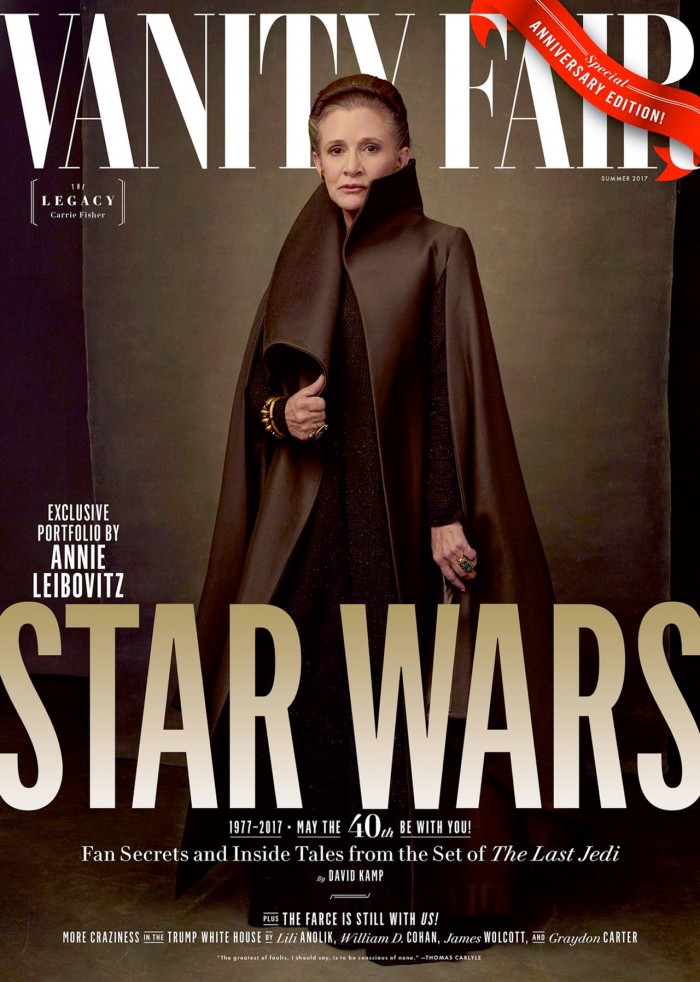 First up, Carrie Fisher is the only one who is wearing something drastically different from what she did in The Force Awakens, with a fancy, flowing cape that has a collar that would make Doctor Strange blush. She's got a couple rings on and a bracelet, but they seem to be more fashionable than significant.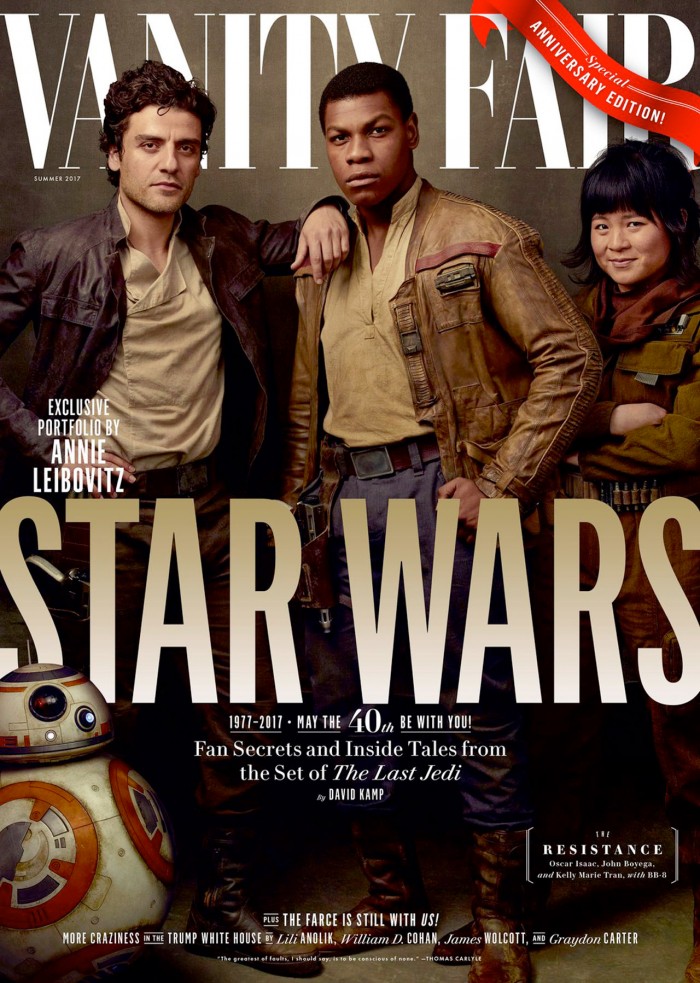 As for Poe Dameron, he has gotten a new jacket after giving his old one to his new pal Finn, who is also wearing a new pair of pants in this photo. As for Rose Tico, this glimpse at the character doesn't look much different than the first look photo that was revealed at Star Wars Celebration.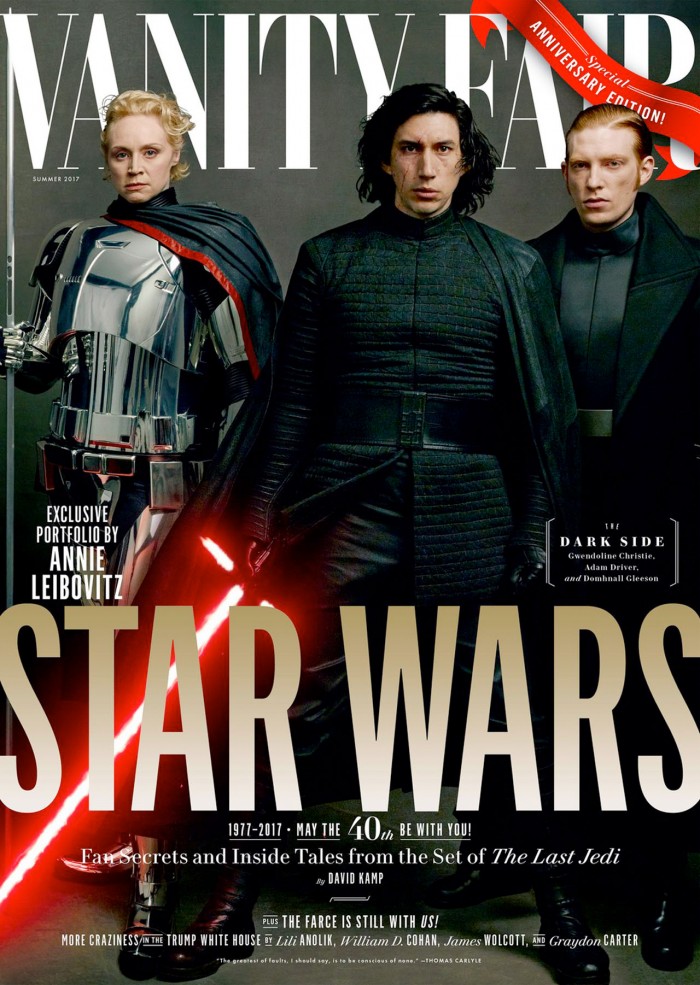 Meanwhile, Kylo Ren is donning that facial scar that was given to him by the slice of a lightsaber in the hands of Rey (Driver says the scars go much deeper than the surface), not to mention a slightly different wardrobe that includes a cape this time. Next to him, Captain Phasma is holding a chrome staff to match her armor, something we didn't see her wield in The Force Awakens. And General Hux doesn't seem to have changed much. He's still rockin' those sideburns, but it's a little more slicked back up top than it was in The Force Awakens.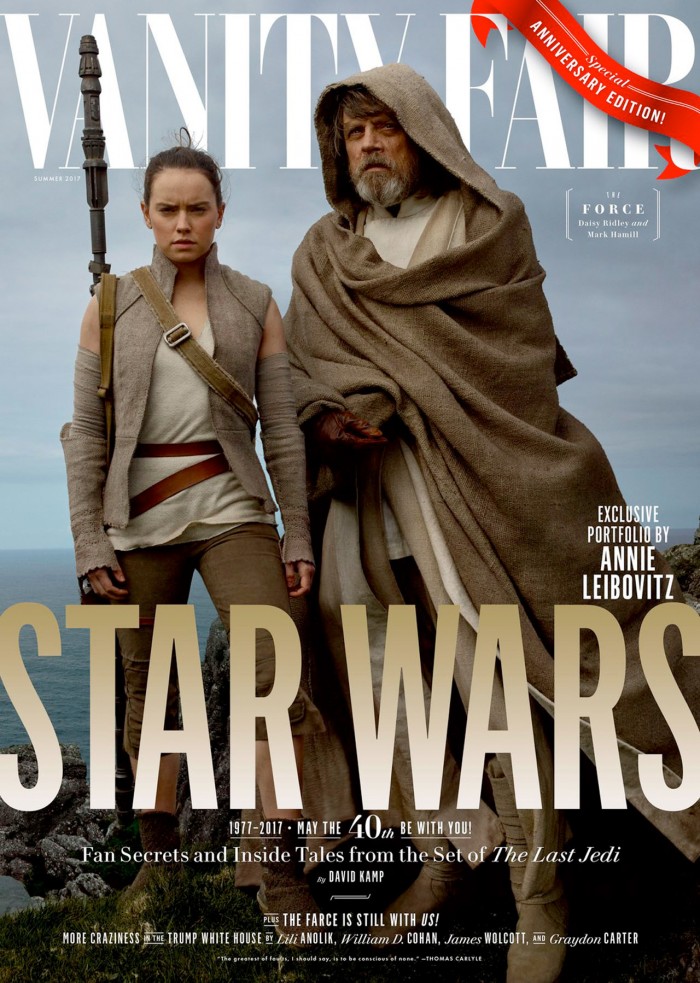 Finally, Luke and Rey look exactly as we left them at the end of The Force Awakens. The only subtle difference is that Luke's cybernetic hand is now covered with a brown leather glove. That's not surprising since he wore a glove to keep it covered in Return of the Jedi, though he left it out in the open when Rey found him at the end of Episode VII. Honestly, it's probably cheaper to keep it covered.
Come back tomorrow to get a glimpse of even more photos from the Vanity Fair photo shoot. Star Wars: The Last Jedi is written and directed by Rian Johnson, and it arrives on December 15.