New 'Wonder Woman' Promo Brings 'Supergirl' And Lynda Carter Into The Marketing Machine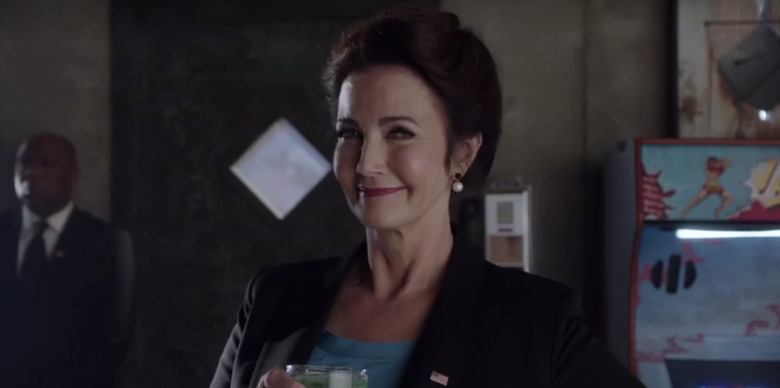 The hype machine for Wonder Woman is operating on full blast as we come up on the last week leading up to the release of the DC Comics movie in theaters. Last night, Warner Bros. Pictures made a push by appealing to fans who have already fallen in love with another female superhero on the small screen: Supergirl. A new promo aired on The CW during the season finale of Supergirl, and it features Melissa Benoist strutting her stuff through a small town bar before getting a compliment about a special clothing item she tosses on. Plus, there's a cameo from a certain guest star from the TV series, the original Wonder Woman herself, Lynda Carter.
Watch the Supergirl Wonder Woman promo after the jump.
The promo also features some of the other prominent female characters who have been on the more recent episodes of the show, including former Lois Lane actress Teri Hatcher, but in the end it's rather confusing. Sure, it makes sense that Supergirl could quickly change into another outfit, but would she really be able to just toss on Diana Prince's boots and gauntlets like that? I'm not sure I buy it, but since it's just a promo for Wonder Woman, I probably shouldn't be so nitpicky about the logistics of it all.
Wonder Woman hits movie theaters around the world next summer when Gal Gadot returns as the title character in the epic action adventure from director Patty Jenkins. Before she was Wonder Woman, she was Diana, princess of the Amazons, trained to be an unconquerable warrior. Raised on a sheltered island paradise, when an American pilot crashes on their shores and tells of a massive conflict raging in the outside world, Diana leaves her home, convinced she can stop the threat. Fighting alongside man in a war to end all wars, Diana will discover her full powers...and her true destiny.
Wonder Woman arrives on June 2.