'Uncharted' Casts 'Spider-Man: Homecoming' Star Tom Holland As Nathan Drake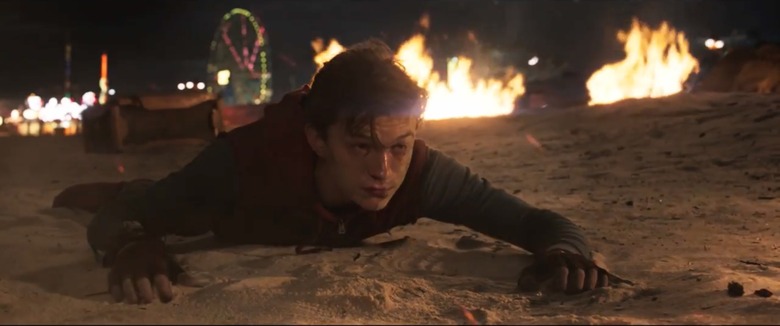 The long-gestating film adaptation of the Uncharted video game series is looking to claw its way out of development hell with a new leading man and, well, let's just say that this leading man will come as a huge surprise to anyone who played Naughty Dog's enormously popular games. Tom Holland, best known as the new Peter Parker in Captain America: Civil War and the upcoming Spider-Man: Homecoming, has been cast as the globetrotting thief Nathan Drake.
Or rather, he's been cast as a young version of Nathan Drake, as the studio has decided to rebuild the project from the ground up as a prequel set before the events of the games.
Deadline has news of the casting, which came about after Sony honcho Tom Rothman watched the latest cut of Spider-Man: Homecoming and decided to build a second franchise around the 20-year old actor. They also report that the script will be entirely rewritten, so Joe Carnahan's R-rated screenplay is no more. The new writer hasn't been announced yet, but director Shawn Levy (Real Steel and Stranger Things) is still on board.
Fans of the games (which released a fourth and supposedly final entry last year) will recall that the story does feature flashbacks to Nathan Drake's childhood, so this isn't entirely out of left field. In fact, it's being reported that this new version of the movie will draw specific inspiration from a level in Uncharted 3 where a young Drake first meets his future parter-in-crime, Victor Sullivan.
Uncharted's bumpy journey to the big screen has been well-documented over the years, as writers, directors, and actors have all come and gone. Remember when this was supposed to be a David O. Russell movie starring Mark Wahlberg? The prequel angle is an odd one, mainly because the appeal of Nathan Drake has always been that he's an Indiana Jones-esque charmer, a scoundrel and a rogue who's always ready with a wisecrack. Starting with a young Drake, before he grows into the character we know from the video games, is an odd choice. Then again, it's easy to imagine Sony imagining a potential movie series that "grows up" with Holland, with this fresh-faced youngster eventually becoming the more hardened explorer and thief seen in the actual games.
However, this does mean that Uncharted is doing what so many other video game adaptation have done in the past and stepping far away from the source material. It's worked for some movies (they made six Resident Evil movies that feel nothing like the Resident Evil games!), but most of the time, it's spelled doom. There's a reason people groan about video game movies all the time.
But Holland is a talented guy and we're due for another high-spirited adventure movie in the Indiana Jones mold. Hopefully, Uncharted can supply just that. Whenever it comes out. If it comes out.