Sasheer Zamata Left 'Saturday Night Live' Too, So Where Was Her Farewell?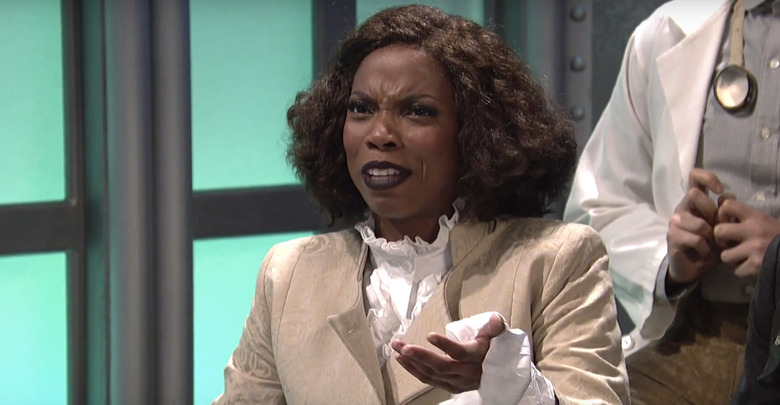 In addition to Bobby Moynihan and Vanessa Bayer leaving the staple sketch show Saturday Night Live, the day after the 42nd season finale brought news that cast member Sasheer Zamata was also departing. There was no word about Zamata leaving the show before the episode aired, but after the traditional send-off at the end of the episode had Zamata carried off the stage by host Dwayne Johnson and fellow cast member Colin Jost (following the same honor being given to Moynihan and Bayer), it was clear that the Indiana-born comedian was leaving the show as well.
However, if Sasheer Zamata was leaving the show along with Bobby Moynihan and Vanessa Bayer, why didn't she get the same send-off treatment as the other two cast members did in their own sketch and prominently featured Weekend Update appearances? Let's discuss Sasheer Zamata leaving Saturday Night Live.
Sasheer Zamata joined Saturday Night Live in 2014 after the show was being heavily criticized by cast members Kenan Thompson and Jay Pharoah for not having a black actress on the show to add a bit more diversity to the cast and the roster of characters that could be used on the show. Not long after this criticism gained steam, auditions were held in the middle of the 39th season to find a new cast member to fill that void, and Zamata ended up with the job. But now Entertainment Tonight reports that's she's leaving.
As talented as Zamata is as both an actress and a stand-up comic, she never really made much of an impression (both literally and figuratively) on Saturday Night Live. Though she played the likes of Michelle Obama, Rihanna and more famous female black celebrities, she never landed any original, recurring characters of her own. Plus, she never became famously known for any of the impressions she did on the show in the way that many of the breakout cast members usually do. But even so, many SNL fans are wondering why Sasheer Zamata wasn't included in the farewell sketch and why she didn't get a goodbye of her own.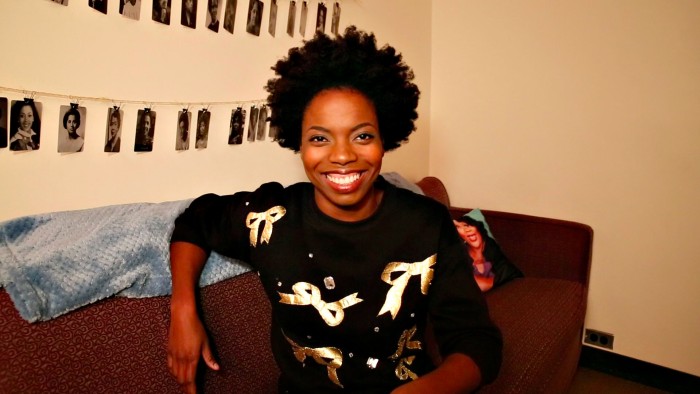 Why Didn't Sasheer Zamata Get a Send-Off Too?
First of all, the way an actor or actress leaves Saturday Night Live is entirely up to them. You'll notice that no one at SNL or NBC have made official statements about any cast members leaving the show. That's because Lorne Michaels lets each of the cast members and their respective publicist handle that on their own. The same can be said for how those cast members choose to leave the show on camera as well. I wouldn't be surprised if Zamata felt she shouldn't be part of this sketch since she hasn't been on the show as long as Bayer and Moynihan and didn't make the same impression.
Secondly, not every cast member gets a big, flashy send-off from the show. Jay Pharoah and Taran Killam were both cast members who made a splash on Saturday Night Live, each with their own recurring characters and signature impressions, but they weren't given what most would consider a proper goodbyefrom the show. Instead, their departure was reported late last fall, just before the 42nd season of SNL came around.
Plus, let's not forget how Kristen Wiig got a huge send-off from SNL in the spring of 2012 in the same season that also saw Jason Sudeikis and Andy Samberg leave the show, each without getting a goodbye of their own, despite their major contributions to the show's roster of characters and sketches. So this isn't some slight against Sasheer Zamata, no matter how many people will frame it that way. It's just how things happen at Saturday Night Live sometimes.
Finally, there are clearly no hard feelings from Sashseer Zamata about the way she left SNL:
Wow. What a fantastic end to a fantastic season, thanks SNL ??????????????
A post shared by Sasheer Zamata (@thesheertruth) on
Sasheer Zamata is an undeniably talented and funny comedian whose career will continue to shine after she leaves SNL. If anything, her time at SNL will only assist her in landing a job that will allow her to do something where she doesn't have to adhere to the traditions and expectations that come with being a cast member at SNL. This show, as prestigious as it is, has always been a stepping stone for comedians to hopefully gain steam and find a larger career in entertainment, and I hope that happens for Zamata.
It'll be interesting to see what Lorne Michaels does to fill the void that has been left by Zamata's departure, and also by the loss of Moynihan and Bayer. We'll probably have some new featured players joining the show this fall, and may even see this past season's featured players promoted to season regulars. Stay tuned.