Listen: The Classic Spider-Man Theme Gets An Orchestral Makeover By Michael Giacchino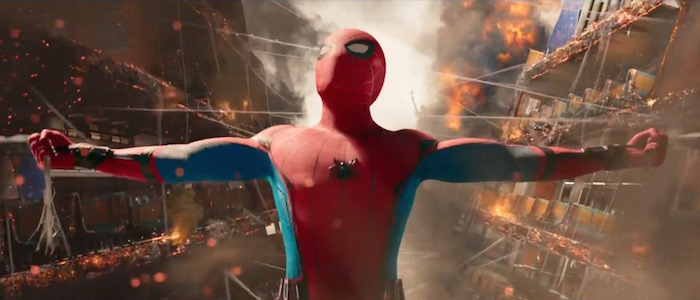 Though there have been five Spider-Man movies that have hit the big screen over the past two decades, the webslinger's classic theme has never really been given its due diligence when it comes to the film's soundtrack. There have been some goofy versions from Sam Raimi's trilogy of movies, and the tune was Peter Parker's ringtone in The Amazing Spider-Man franchise, but it's never been given a proper orchestral arrangement. But it sounds like that will change this summer.
Composer Michael Giacchino (The Incredibles, Star Trek) is behind the score for Spider-Man: Homecoming, and he's currently busy at work in the studio finalizing the score for the film's release in July. We still have about a month and a half to wait until we get to see the movie, but Giacchino has provided us with a taste of the score from the film in the form of his absolutely wonderful variation on the classic Spider-Man theme song.
Listen to what might be the Spider-Man Homecoming theme after the jump.
Here's the video that Michael Giacchino posted to his official Twitter account:
Who's ready for your friendly neighborhood you-know-who?@SpiderManMovie @MarvelStudios pic.twitter.com/iSHk4IvVgk

— Michael Giacchino (@m_giacchino) May 19, 2017
That orchestral arrangement gave me goosebumps. It just sounds amazing. Like I said, there's never been a big screen version of the theme like this, and I'm hoping with every fiber of my being that this is the main theme for Spider-Man: Homecoming. However, I'm thinking that this piece of music won't appear in the film itself unless it's part of some kind of closing shot of Spidey swinging through the city. I'm betting this track will only appear in the credits of the film, but I suppose that's fine with me as long as it's available on the soundtrack. For a frame of reference, here's the classic theme from 1967:
Spider-Man: Homecoming is directed by Jon Watts (Cop Car) and has a supporting cast that includes Michael Keaton, Zendaya, Laura Harrier, Jacob Batalon, Marisa Tomei, Donald Glover, Bokeem Woodbine, Logan Marshall-Green, Tony Revolori, Jon Favreau and more.
A young Peter Parker/Spider-Man (Tom Holland), who made his sensational debut in Captain America: Civil War, begins to navigate his newfound identity as the web-slinging super hero in Spider-Man: Homecoming.  Thrilled by his experience with the Avengers, Peter returns home, where he lives with his Aunt May (Marisa Tomei), under the watchful eye of his new mentor Tony Stark (Robert Downey, Jr.). Peter tries to fall back into his normal daily routine – distracted by thoughts of proving himself to be more than just your friendly neighborhood Spider-Man – but when the Vulture (Michael Keaton) emerges as a new villain, everything that Peter holds most important will be threatened.
Spider-Man: Homecoming is set to open on July 7 this summer.