'Tour De Pharmacy' Trailer: Andy Samberg's Sports Mockumentary Spoofs Doping In Cycling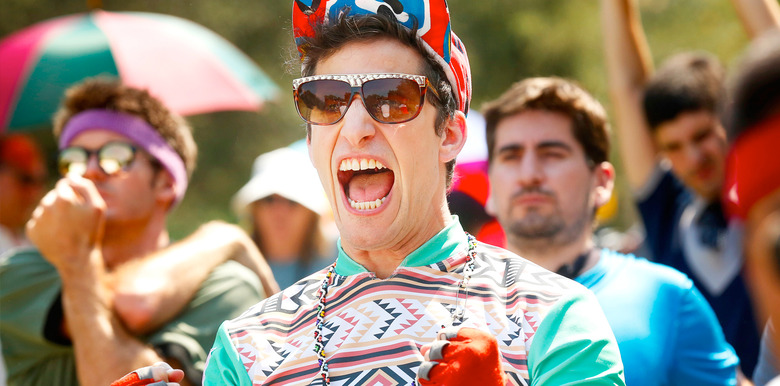 Back in 2015, HBO debuted a sports mockumentary called 7 Days in Hell that chronicled fictional tennis players Aaron Williams (Andy Samberg) and Charles Poole (Kit Harington) who played a match to end all tennis matches: a seven-day, five-set marathon that took everything out of them. It was a hilarious 45-minute foray into tennis presented in the style of HBO Sports documentaries, and now the world of competitive cycling is getting the same treatment.
Tour De Pharmacy focuses on five cyclists in 1982 as they dealt with the controversy of nearly every athlete doping in order to get an edge on competition. The cast includes Andy Samberg, John Cena, Freddie Highmore, Daveed Diggs, Orlando Bloom and they somehow got Lance Armstrong to appear and even poke fun at his own relationship with doping.
Watch the Tour De Pharmacy trailer below.
This is just a teaser trailer, and a big chunk of it is spent touting all the names involved. But when you have a movie that also features Jeff Goldblum, Danny Glover, Dolph, Lundgren, Julia Ormond, James Marsden, Kevin Bacon, Nathan Fielder, Will Forte, Maya Rudolph, Joe Buck, Mike Tyson, J.J. Abrams, Phylicia Rashad, Chris Webber and Adewale Akinnuoye-Agbaje, you want everyone to know.
What I love most is that they make no attempts to make the 1980s wigs and fake facial hair look convincing at all. But that Lance Armstrong bit at the end was just awesome. I'm glad that Armstrong has reached a point where he can make fun of the fact that he cheated to win the Tour de France several times.
Tour De Pharmacy is executive produced by Andy Samberg and Murray Miller, and the latter also wrote the script, with Jake Szymanski (Mike and Dave Need Wedding Dates, 7 Days in Hell) directing. It premieres on HBO on July 8 at 10pm ET/PT.
In 1982, during a dark and fictitious time in cycling history, the sport's most venerable, time-honored race was marred by the doping of virtually all of its competitors. Riddled with nefarious characters, that year's competition was a hornet's nest of moral depravity. Through the perspective of five riders, TOUR DE PHARMACY gives an inside look into the grim realities of the darkest event in a sport notoriously tainted by controversy.