'Han Solo' First Look: Alden Ehrenreich's Take On The Famed Smuggler Has '70s Hair And Everything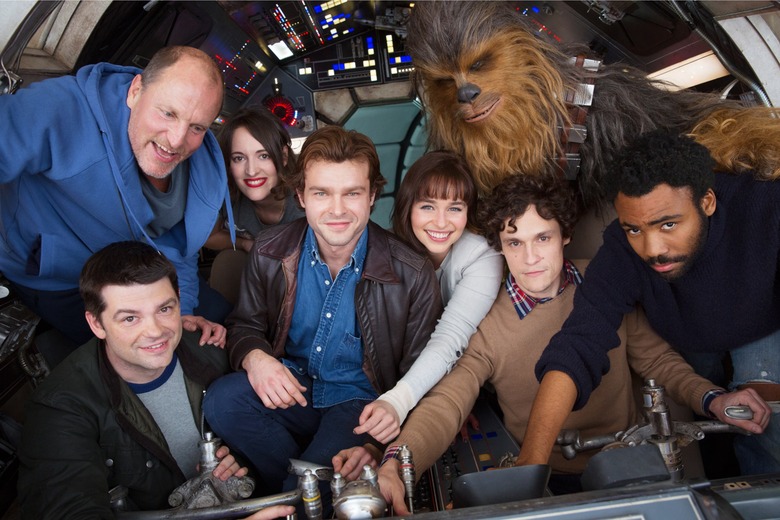 Right now, the folks at the Disney marketing department are probably sitting back at their desks and groaning. Why didn't they release an official still of Alden Ehrenreich as Han Solo in Chris Miller and Phil Lord's upcoming spin-off movie when they had a chance? Now, our first look at the Hail, Caesar! star as the galaxy's most famous (young) smuggler has arrived via paparazzi shots, and that's certainly not the way anyone wanted this to go down.
The Han Solo first look was published through (you guessed it) TMZ, and because we're not in the mood to get sued, we're not going to actually embed any of the photos here. Instead, I'd recommend clicking on that link, taking a look, and coming back here to talk about what's on display.
'Star Wars' Set Pics Reveal Alden Ehrenreich as a Young Han Solo (PHOTO GALLERY) https://t.co/59i74evayP

— TMZ (@TMZ) May 19, 2017
While Ehrenreich isn't the spitting image of a young Harrison Ford, he definitely has a similar swagger...and he definitely has the same hair. I've always loved the '70s hairstyles in the original Star Wars, and it makes me very happy to see that young Han will retain a similar look to the original character. After all, it's not a '70s hairstyle! It's just how people looked in this corner of the galaxy a long time ago, in a galaxy far, far away.
And while that black coat is doing its job and obscuring the costume Ehrenreich is actually wearing, it's nice to see that this particular get-up (a white coat, black shirt, and dark pants) looks nothing like anything Han wore in any of the other Star Wars movies. It would have been easy (and totally stupid) for young Han to dress just like his older self, transforming that iconic black vest into a uniform instead of just what he happened to be wearing in that Mos Eisley cantina on the day he met Luke and Obi-Wan. Han is a three-dimensional character, not a brand that can be summed up by his wardrobe.
Of course, the photos also reveal a number of other characters, but its not clear if they're just background characters or people with some significance to the plot. However, it's safe to say that they all look like Star Wars characters, people whose wardrobes have seen better days.
As interesting as Han and the other characters are the vehicles seen in these images. Either these are landspeeders whose tires will be removed in post-production or Star Wars cars with actual tires. I'm especially tickled by the purple car, which looks like it was torn straight out of 40-year old science fiction novel. Once again, the Han Solo film seems unafraid to embrace the 1977 vision of a science fiction world.
The Han Solo movie, which still doesn't have an official title, is set to open on May 25, 2018.