Red Band 'The House' Trailer: Get Your Passport Ready For F**ktown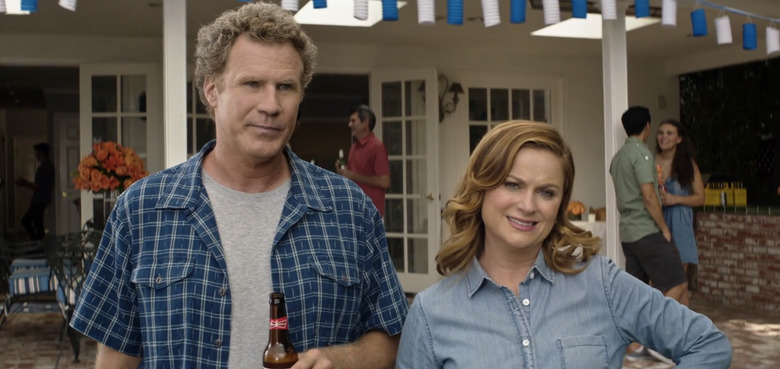 Now that blockbuster summer is in full swing, I've been wondering what the hit comedy of the season is going to be. Snatched has arrived and it doesn't seem to be nearly as good as Trainwreck. Most people might say Baywatch is the next best option, but with all we've seen so far, I don't think it's going to deliver. Rough Night has the potential to break out as well, but I'm still on the fence with it. There's The Big Sick, which we know brings the goods, but that's a lower key release and even though it's hilarious, it's not a straight-up big studio comedy. But after seeing a new red band trailer for one of our summer comedy options, I'm ready to place my bet.
The House stars Will Ferrell and Amy Poehler as a couple who find themselves in the unfortunate position of having squandered their teenage daughter's college fund just as she's graduating high school. So what's the best way to make sure she doesn't end up a homeless stripper? Start an underground casino with hilarious results.
Watch the new red band The House trailer below, and beware of profanity and brief nudity making this NSFW.
If you think this looks like it has some of the comedic style of Neighbors, that's because it's scripted by that fraternity comedy's writers Andrew J. Cohen and Brendan O'Brien, with the former also making his feature directing debut. If this trailer is any indicator, than Cohen will have a bright future directing comedies after this.
If Will Ferrell and Amy Poehler isn't enough to entice you to see this movie, Jason Mantzoukas looks like he could be the MVP of this movie since the underground suburban casino is all his idea. That last scene where Steve Zissis gets his hand accidentally cut off, causing Mantzoukas to nearly vomit had me cracking up. I think this is going to be the summer comedy that has everyone rolling in the aisles.
The rest of the cast includes Allison Tolman (Fargo) as our main characters' financial advisor, Rob Huebel as a police officer,  Lennon Parham (Veep) as a woman who gets a little too caught up in the Las Vegas lifestyle that emerges in the neighborhood, and Nick Kroll as a man who creates trouble for Poehler and Ferrell when he find out about their gambling ring. Sam Richardson, Rory Scovel, Andrea Savage, Michaela Watkins and Kyle Kinane will also appear.
After losing their college fund, Scott (Will Ferrell) and Kate (Amy Poehler) must figure out a way to earn some cash so their daughter (Ryan Simpkins) can go to school. With help from their neighbor Frank (Jason Mantzoukas), the couple start an underground casino in the basement of their house. As the money rolls in and the good times fly, Scott and Kate soon learn that they may have bitten off more than they can chew.
The House opens on June 30.