'Star Trek: Discovery Trailer: Boldy Going Once More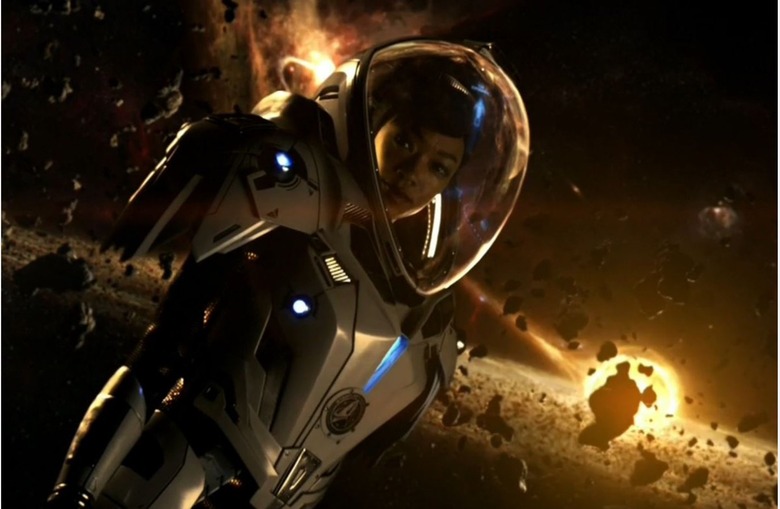 The world needs Star Trek. We need Star Trek because a science fiction world that is all about the human race overcoming its differences and coming together to make a better future for everyone is the kind of message 2017 needs to be bludgeoned over the head with right about now. We also need Star Trek because it's been 12 years since Star Trek: Enterprise ended and it's about time for another show set in Gene Roddenberry's legendary universe to come along.
CBS has released the first Star Trek: Discovery trailer, offering a first look at footage from the upcoming show.
It's been a bumpy road for Star Trek: Discovery so far. Originally announced in 2015 and set to premiere in January 2017, the series lost showrunner Bryan Fuller (who is currently working on the incredible American Gods over at Starz) and had its premiere delayed until May 2017. Gretchen J. Berg and Aaron Harberts took over as showrunners, but the premiere was delayed again for reasons unknown. If you add in certain veteran Star Trek actors being insulted by the series' low pay and the show being confined to the CBS All Access streaming platform rather than the network itself, you have many reasons to suspect that something is up behind the scenes.
But since Star Trek is a series about facing the impossible with a noble and optimistic perspective, let's click play on the trailer below and hope for the best.
For the first time in franchise history, the lead character on Star Trek: Discovery won't be a ship's captain. Instead, that duty will fall to First Officer Michael Burnham, played by The Walking Dead veteran Sonequa Martin-Green. However, she'll be surrounded by a names and faces that should prove familiar to film and TV fans, like the great Michelle Yeoh as Captain Philippa Georgiou of the starship Shenzhou and the equally great Jason Isaacs as Captain Lorca of the Discovery itself. The lower ranks are filled out by James Frain as a Vulcan astrophysicist named Sarek (who has son named Spock), make-up and monster veteran Doug Jones as an alien science officer named Saru (a member of a species new to the Star Trek universe), and Anthony Rapp as a astromycologist named Stamets (who is also the first Trek character to be openly gay, an "about damn time" moment for a series that has always patted itself on the back for its progressive attitudes).
Star Trek: Discovery will premiere on CBS later this year before becoming a CBS All Access exclusive for the rest of its 15-episode first season.