First 'Star Trek: Discovery' Image Reveals Sonequa Martin-Green And Michelle Yeoh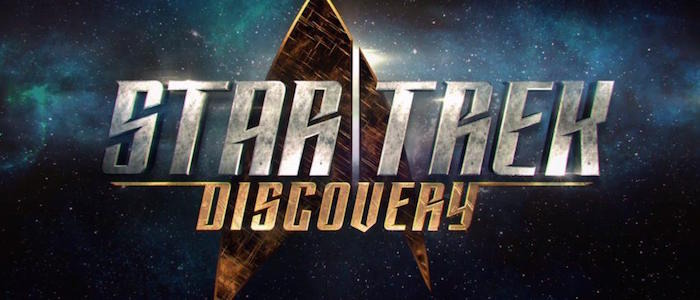 With upfronts happening this week, there's a strong chance that we'll soon get our first proper look at footage from Star Trek: Discovery. But in the meantime, let's just enjoy a first look at characters from the series. Specifically, a new new photo featuring Michelle Yeoh's Captain Philippa Georgiou and Sonequa Martin-Green's First Officer Michael Burnham has been released.
The image debuted over at Entertainment Weekly and I can't help but look at this and think "CBS, you sly dogs." While this is technically our first look at new characters at the forefront of a brand new Star Trek TV series, it hides their crew uniforms under several layers. They know we're dying to get a good look at what the Starfleet uniforms will look like in this series (which takes place a decade before the original 1966 show) and they're straight-up teasing us.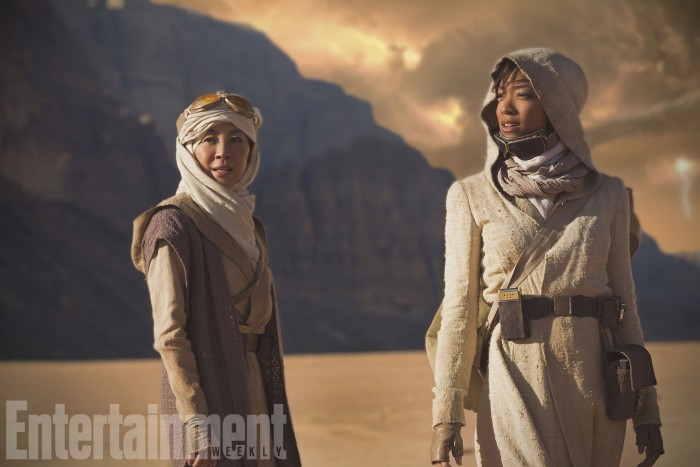 Plot details about Star Trek: Discovery remain tightly under wraps, but we do know that Michael Burnham is first officer on board the Discovery, a ship commanded by Jason Isaac's Captain Lorca. Philippa Georgiou is the captain of another ship, the Shenzhou. It's not clear if those desert outfits are there to simply protect them from the elements or if they're undercover, possibly on a planet that has yet to achieve the technological breakthroughs that would warrant contact from Starfleet and the United Federation of Planets. However, they aren't hiding too hard, as Burnham's belt is equipped with an old school flip communicator and what looks like a tricorder (as seen in the original series).
So the big question now is how do these two know each other and why are officers from two different ships seemingly on a mission together? If you asked me to speculate, I'd wonder if Burnham used to work under Georgiou, only to be transferred to another ship after accomplishing a major mission...or screwing one up.
Star Trek: Discovery is filming its first season in Toronto as we speak (although the scene in the image was shot in Jordan). CBS has not announced a premiere date for the series yet, but it's expected to premiere later this year. The first episode will air on regular 'ol television, but the rest of the 13-episode season will move to the CBS All Access streaming service, a move that guarantees all Trek fans become subscribers. Once again: CBS, you sly dogs. The rest of the cast includes James Frain as Sarek (Spock's father), Doug Jones as an alien science officer, and Anthony Rapp as the Discovery's astromycologist (he studies fungi). Gretchen J. Berg and Aaron Harberts serve as showrunners.