Kevin Costner To Star In Series From 'Hell Or High Water' Screenwriter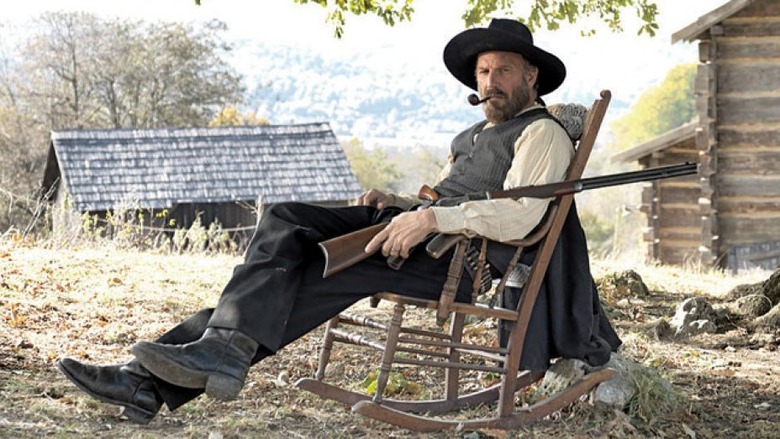 Kevin Costner has signed on for his first regular role in a television series. Making the news even better, he'll play a part written by the screenwriter of Sicario and Hell or High Water, Taylor Sheridan. Costner, Sheridan, and The Weinstein Company are coming together for ten episodes of Yellowstone for Paramount Network's new drama.
Below, learn more about the Kevin Costner TV series.
According to Deadline, Yellowstone is the first scripted drama to get the greenlight from Paramount Network, a new network that will replace Spike early next year. Kevin Costner will play a role that sounds about right for his onscreen persona: John Dutton, the owner of "the largest contiguous ranch in the United States."
Dutton and his family business are confronted by land developers, an Indian reservation, and America's first National Park, not to mention the billions of dollars, corrupt politicians, and seedy oil and lumber corporations involved.
Production will begin on the 10 episodes in the fall. Yellowstone will then premiere during the summer of 2018. The show will be Costner's first work in television since the rather good Hatfield & McCoys miniseries, which aired five years ago.
President of development and production for Paramount Network, Keith Cox, expressed his excitement over Costner's starring in the series:
Our goal is to bring premium cinematic storytelling to television. With an icon such as Kevin Costner in front of the camera, and the renowned Taylor Sheridan behind the camera, we are off to a great start. We are thrilled to have such a celebrated actor as Costner to play the lead role in such an important project for Paramount Network.
Costner and Sheridan are executive producing Yellowstone. Although Cox said Sheridan is "behind the camera", it's unclear whether he'll direct any episodes of Yellowstone. The screenwriter recently made his directorial debut with Wind River, which our own Ethan Anderson liked quite a bit at Sundance..
Weinstein believes Sheridan has written a "giant of a character" for Costner:
Taylor Sheridan wrote a giant of a character in lead John Dutton. There was only one actor who could be transformational – Kevin Costner. This is a coup for the show and fulfills a joint promise that Kevin and I made – that we would find a mutual project to work on.
The actor and writer-director are a promising combo. Sheridan writes good, tense drama, which I'd want to see play out over the course of a series starring Kevin Costner, an actor who'd probably gel well with Sheridan's writing style. They're both very concise and direct storytellers and the two of them working together sets expectations on high.