'Brigsby Bear' Clip: Mark Hamill Has A Strange, Fatherly Chat With Kyle Mooney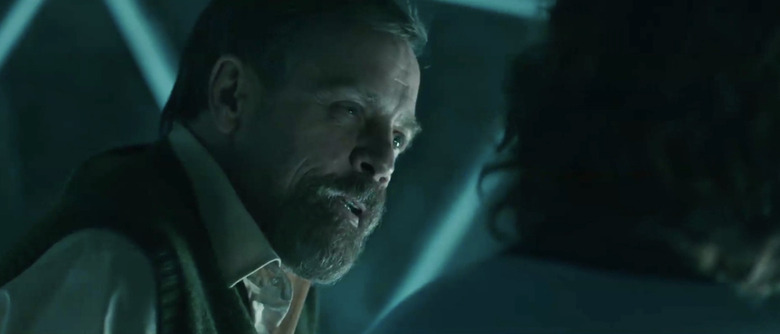 The first teaser poster for Brigsby Bear arrived yesterday, introducing us to Kyle Mooney as James Pope and his favorite TV show star, the titular space-trekking bear who taught him math and life lessons all throughout his formative years. Of course, all of this happened while living he was living in a bunker, secluded from the irradiated Earth above ground.
Now we get to see a Brigsby Bear clip, which features Kyle Mooney having a chat with the man who he believes to be his father, played by Mark Hamill. They're sitting in a dome with a scenic view that keeps them safe from the poisoned environment outside of their sealed home. It's a fairly normal chat that an insecure kid might have with their father about the world around us, but it's made all the more strange when you see what the world looks like outside the dome.
Here's the Brigsby Bear clip from Vulture:
Spoilers for the early film story point which the marketing of the film will surely have to reveal:
Honestly, it's a shame that this movie can't be marketed without giving the basic premise of the movie away. When I saw this movie at Sundance, the synopsis gave no indication that Kyle Mooney's character was a twentysomething raised by complete strangers who kidnapped him as a baby. That made the world in which his character had grown up feel rather surreal, creating a sense that we were watching a movie that took place in some sort of dystopian future where there were animatronic foxes and bugs that looked like they were created by the same people who made Chuck E. Cheese and his band.
But then the police showed up to rescue him from the only family he's ever known, and it really pulled the rug out from the world we thought we were watching. It was very effective without any prior knowledge of that part of the story, but unfortunately, it's hard to convince audiences to see the movie without giving them that crucial part of the story.
Anyway, Mark Hamill plays a small but fantastic role in this movie. Not only does he play Kyle Mooney's fake father, but he also provides the voices for all the characters who appear in the faux TV show The Brigsby Bear Adventures. That's much more than he got to do in Star Wars: The Force Awakens.
You can read my full take on Brigsby Bear in my review from Sundance over here. The movie made our list of the best movies from Sundance, and it was also on our indie summer movie preview too, so make sure you seek this one out.
Brigsby Bear Adventures is a children's TV show produced for an audience of one: James (Kyle Mooney). When the show abruptly ends, James's life changes forever, he sets out to finish the story himself and must learn to cope with the realities of a new world that he knows nothing about.
Brigsby Bear hits select theaters on July 28 and will expand in the weeks following.