'Battle Of The Sexes' Trailer: Emma Stone & Steve Carell Start A Rivalry That Sparks Progress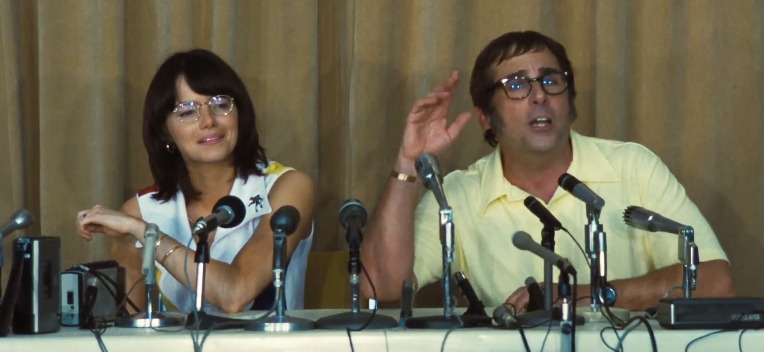 Fresh off an Academy Award win for Best Actress in La La Land, the talented Emma Stone could end up in the Oscar race again next year as she portrays tennis star Billie Jean King, who finds herself facing off with showboat ex-champ Bobby Riggs (Steve Carell) in a highly publicized tennis match that would go down as one of the most famous rivalries in all of sports.
Battle of the Sexes tells the story of the tennis match that captivated audiences around the world, but it also dives into the lives of Billie Jean King and Bobby Riggs, each dealing with their own personal struggles off the court. Now the first trailer has arrived, showcasing a playful and poignant drama that is about much more than a tennis match. It's about the fight for equality among men and women.
Watch the Battle of the Sexes trailer below.
From the looks of this trailer, the movie appears to be a blend of two character portraits combined with the recreation of a famous event from sports history that had a larger impact than anyone could have imagined. As someone who is not really a sports fan, I still consistently find myself fascinated by the stories that come from the world of athletics. The competition itself hs so much more signicance when you know what's going on behind the scenes, and that's exactly what makes this look so compelling.
Beyond Emma Stone and Steve Carell in the leads, the film has quite an ensemble cast that includes Andrea Riseborough, Sarah Silverman, Bill Pullman, Alan Cumming, Elisabeth Shue, Natalie Morales, Fred Armisen, Eric Christian Olsen and more. They're all working under the direction of Little Miss Sunshine and Ruby Sparks filmmaking duo Jonathan Dayton and Valerie Faris with a script from Slumdog Millionaire writer Simon Beaufoy.
The electrifying 1973 tennis match between World number one Billie Jean King (Emma Stone) and ex-champ and serial hustler Bobby Riggs (Steve Carell) was billed as The Battle of the Sexes and became one of the most watched televised sports events of all time. The match caught the zeitgeist and sparked a global conversation on gender equality, spurring on the feminist movement. Trapped in the media glare, King and Riggs were on opposite sides of a binary argument, but off-court each was fighting more personal and complex battles. With a supportive husband urging her to fight the Establishment for equal pay, the fiercely private King was also struggling to come to terms with her own sexuality, while Riggs gambled his legacy and reputation in a bid to relive the glories of his past. Together, Billie and Bobby served up a cultural spectacle that resonated far beyond the tennis courts and animated the discussions between men and women in bedrooms and boardrooms around the world.
Battle of the Sexes arrives this fall on September 22.