Cool Stuff: Mondo's 'The Fifth Element' Vinyl With Artwork By Shan Jiang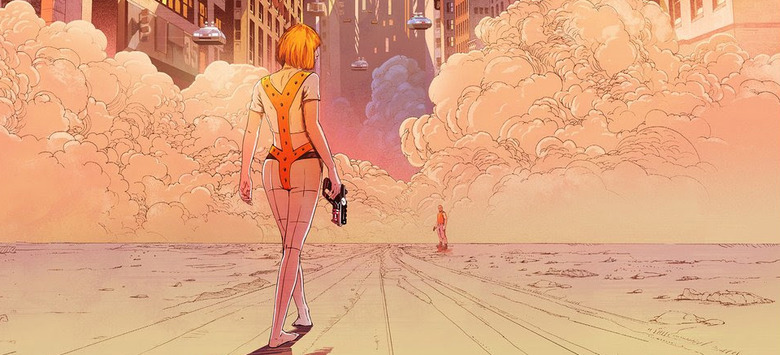 This year marks the 20th anniversary of Luc Besson's outstanding sci-fi action movie The Fifth Element. The actual anniversary already passed us by on May 9th, but this week is when the film is being celebrated by a return to the big screen. Not only can you see the movie on the big screen again, but Mondo is releasing a special edition vinyl double LP of the film's soundtrack by Eric Serra with album artwork by Shan Jiang.
Get a look at The Fifth Element vinyl soundtrack after the jump.
Here's the artwork for Mondo's release of The Fifth Element vinyl soundtrack:
As for the records inside the album art, there are two different options you'll be able to buy:
On the left is the standard 180 gram white with orange striped vinyl, which is not a limited edition. Meanwhile, on the right is the special "Super Green" vinyl, inspired by Ruby Rhod's signature catchphrase, which will be limited to just 500 copies. No matter which version you buy, it will cost you $35. But if you want that Super Green version, you better act fast, because it will sell out quickly. Both versions go on sale at 1pm ET at the Mondo website right here.
Presumably the color of the records is inspired by Leeloo's orange hair and that signature white garment that left her rather scantily clad after she broke out of the facility where she was brought back to life. Though it could also be inspired by the wardrobe that includes a small white t-shirt and that odd orange elastic number that looks like a sci-fi version of Borat's bathing suit.
The film had its first couple re-release screenings on Mother's Day, but if you missed it you still have two more opportunities to see the film at 2pm and 7pm local time on Wednesday, May 17. Find out where and get tickets right here.