International 'Wonder Woman' Trailer Offers Up Even More World War I Action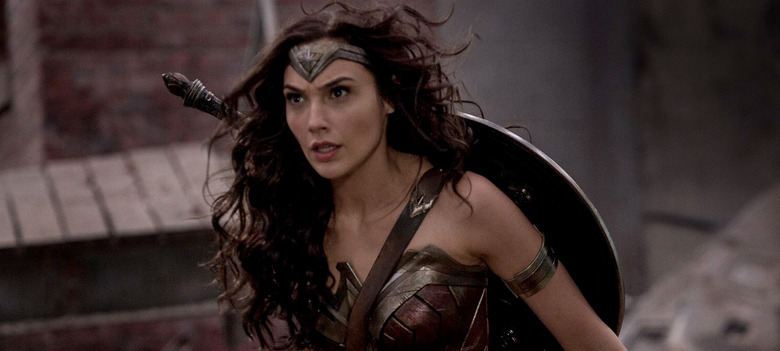 We're a little over two weeks out from Wonder Woman becoming the first female superhero to get her own big screen adventure all to herself. The marketing onslaught is in full swing, and box office tracking has the opening weekend landing anywhere between $65 million on the lower end up to $105 million on the higher end. More than likely, it will end up somewhere in the middle around the $85 million mark, but two weeks is a lot of time for a studio to convince audiences to see a movie.
The United States isn't the only place where Wonder Woman is getting a huge push. In fact, our latest look at Diana Prince's adventures in World War I comes from a Chinese trailer that has plenty of new footage from the action on the battlefield. However, Warner Bros. Pictures is still keeping Ares hidden away from sight for the time being, though there is the tiniest glimpse of the villain from a distance in this trailer.
Watch the new international Wonder Woman trailer below.
The action continues to look positively spectacular, whether it's in the villages of England, on the battlefield of World War I, or any of the locations Wonder Woman (Gal Gadot) will find herself. What I love about the action is how much the superhero is seen using her own strength, as well as resourcefully using every weapon at her disposal, whether it's her gauntlets, shield or sword.
What I'm most curious about is how the story will unfold and how Ares will come to be the primary villain. As we learned in our footage preview from awhile back, Diana heads back to the mainland with Steve Trevor (Chris Pine) because she wants to find Ares, who she believes is responsible for all the war that mankind is dealing with. But exactly how the villain will reveal himself remains to be seen (though we do have our own theory), and the final theatrical trailer for domestic audiences painted Elena Anaya (as Dr. Poison) as the only recognizable villain. That means there should be some good surprises in store when the movie arrives at the beginning of June.
For those curious, the quick shot of Ares is a total blink-and-you'll-miss-it moment around the 46-second mark in this video.
Patty Jenkins (Monster) is directing her biggest movie to date with a supporting cast that includes Chris Pine as Steve Trevor, Lucy Davis as Etta Candy, Connie Nielsen as Hippolyta, Robin Wright as Antiope, Danny Huston as General Erich Ludendorff, Elena Anaya as Dr. Poison, David Thewlis as Sir Patrick Morgan and more.
Wonder Woman hits movie theaters around the world next summer when Gal Gadot returns as the title character in the epic action adventure from director Patty Jenkins. Before she was Wonder Woman, she was Diana, princess of the Amazons, trained to be an unconquerable warrior. Raised on a sheltered island paradise, when an American pilot crashes on their shores and tells of a massive conflict raging in the outside world, Diana leaves her home, convinced she can stop the threat. Fighting alongside man in a war to end all wars, Diana will discover her full powers...and her true destiny.
Wonder Woman arrives on June 2, 2017.