'GLOW' Trailer: Alison Brie And Marc Maron Step Into The Ring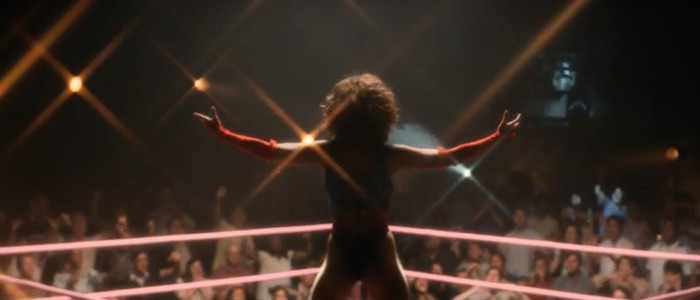 Netflix's GLOW is constructed from a colorful combination of names and concepts: Community star Alison Brie, comedian and podcast-extraorindaire Marc Maron, the producers of Orange is the New Black, an '80s Hollywood setting, and the world of syndicated women's professional wrestling. If the trailer for the show's first season is any indication, this could be a big-hearted winner and something that even non-wrestling fans can get behind.
While I don't watch professional wrestling myself, I have enough good friends (smart marks, the lot of 'em) who have made me aware of the industry's various intricacies. While I'm not a fan, I find the unseen aspects of wrestling so very fascinating, moreso than what's actually going on in the ring. So a show that takes us behind-the-scenes of a low-budget, woman-centric wrestling series starring unemployed actresses (led by Brie) and helmed by an aging B-movie director (Maron) is right up my alley. It helps that I adore both Brie and Maron, but it's easy to be interested in GLOW because the trailer itself is spirited and funny and often downright adorable.
GLOW comes from the brain trust of executive producers Liz Flahive (Homeland, Nurse Jackie), Carly Mensch (Orange is the New Black, Nurse Jackie), Jenji Kohan (Orange is the New Black, Weeds) and Tara Herrmann (Orange is the New Black). While the characters and story beats seen in the trailer are fictionalized, the series is loosely based on the real-life Gorgeous Ladies of Wrestling, a short-lived wrestling show that, like the much more famous competition, emphasized outrageous characters as much as it did athleticism. Here's the official synopsis for the show:
Inspired by the short-lived but beloved show from the 80s, GLOW tells the fictional story of Ruth Wilder (Alison Brie), an out-of-work, struggling actress in 1980s Los Angeles who finds one last chance for stardom when she's thrust into the glitter and spandex world of women's wrestling. In addition to working with 12 Hollywood misfits, Ruth also has to compete with Debbie Eagan (Betty Gilpin), a former soap actress who left the business to have a baby, only to be sucked back into work when her picture perfect life turns out not to be what it seems. At the wheel is Sam Sylvia (Marc Maron), a washed-up, B-movie director who now must lead this group of women on the journey to wrestling super stardom.
The 10-episode first season of GLOW will arrive on Netflix on June 23, 2017.