The Great Powers Boothe Has Died At 68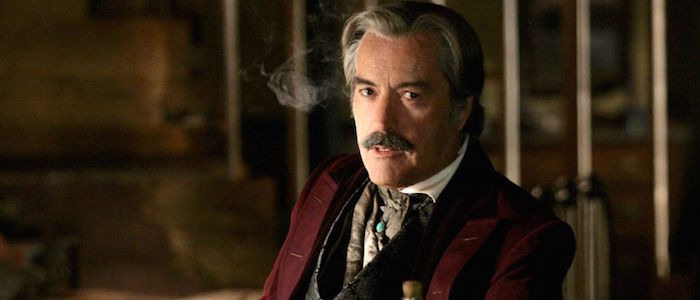 Powers Boothe, the imposing character with a gravelly voice and a penchant for playing dangerous men, has passed away at 68. He leaves behind dozens of memorable film and television roles – he played cowboys and crooks and presidents and soldiers. We brought the American west to life and lent his unique gravitas to the Marvel Cinematic Universe...and he made it look effortless.
The news was initially revealed by Boothe's friend, Beau Bridges, on Twitter. The Hollywood Reporter confirms that Boothe died in his sleep of natural causes.
It's with great sadness that I mourn the passing of my friend Powers Boothe. A dear friend, great actor, devoted father & husband.

— Beau Bridges (@MrBeauBridges) May 14, 2017
Born on June 1, 1948 in Snyder, Texas, Boothe broke into acting through the Oregon Shakespeare Festival, joining their repertory company and acting in various shows. He made his New York stage debut in a 1974 Lincoln Center production of Richard III before making his Broadway debut in Lone Star in 1979.
While he had a handful of film and television roles before, his big break onscreen break came with 1980's Guyana Tragedy: The Story of Jim Jones, a role that won him an Emmy for Outstanding Lead Actor in a Limited Series or a Special. From there, Boothe never stopped working, consistently appearing on the big and small screens for the next several decades. Many audiences will recognize him as the grizzled soldier Andy in Red Dawn (which made incredible use of his natural Texan toughness), but I have a soft spot for his work in Walter Hill's Southern Comfort (which sees that toughness slowly deflated and beaten to a bloody pulp).
Great roles, often as heavies or figures of authority, followed. Curly Bill Brocius in Tombstone. Alexander Haig in Nixon. Sheriff Potter in U Turn. FBI Agent Wesley Doyle in Frailty. Senator Roark in Sin City. The best directors knew how to weaponize Boothe's laconic attitude, his old school masculinity. He was always the most imposing guy in the room.
However, his best role would arrive with HBO's Deadwood, which saw him playing Cy Tolliver, a saloon owner who, despite the pretense of civilization (he was one of the best dressed men in town), was not above violence to get the job done. It's terrifying and charismatic work, further elevated by a story arc that saw this powerful guy desperate and emasculated.
In his finale decade, Boothe would play the president of the United States on 24, Connie Britton's father on Nashville, and Gideon Malick in Agents of S.H.I.E.L.D., a role that originated as a supporting role in The Avengers. Perhaps it's that role that helps sums up Boothe: when a major summer blockbuster needed an actor who could project absolute authority and menace in just a few brief scenes, they turned to Powers Boothe. After all, he was guaranteed to get the job done.
Boothe is survived by his wife Pam and their two children, Parisse and Preston.