Watch: 'Mystery Science Theater 3000' Robots Pitch New Shows To Netflix, Read YouTube Comments & More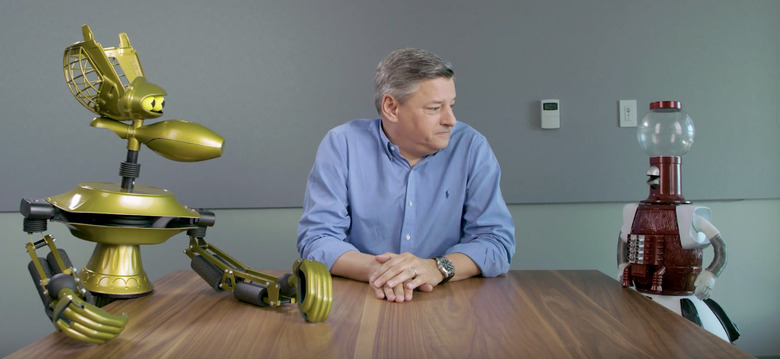 The entire new season of Mystery Science Theater 3000 is available on Netflix, and if you haven't watched it yet, you're missing out on a fantastic return for the movie mocking series. In order to keep raising awareness for the show for those who aren't familiar with the series that ran from the late 1980s through the later 1990s, Netflix has put together some great promo videos featuring the show's puppeted robots Tom Servo (voiced by Baron Vaughn) and Crow T. Robot (voiced Hampton Yount). The two robots pitch some new shows to Netflix, watch some shows on the streaming service, read YouTube comments and more.
Watch the Mystery Science Theater 3000 Netflix pitches and other videos below.
First up, here's Crow ans Servo pitching shows to Netflix CEO Ted Sarandos:
Then here's the two robots from the Satellite of Love watching some of Netflix's original shows:
After their triumphant return, Servo and Crow learned about the internet and read YouTube comments:
Again, these promos aren't necessarily laugh out loud hilarious, but believe me when I say that this show is truly funny. If you need any convincing, start with the Cry Wilderness episode, because that movie is atrocious and they really give it a good mocking.
Created and co-directed by Joel Hodgson, the Mystery Science Theater 3000 revival stars Jonah Ray (The Nerdist Podcast, Maron) as Jonah Heston, along with his robot sidekicks Tom Servo (Baron Vaughn, Grace and Frankie) and Crow T. Robot (Hampton Yount, The Eric Andre Show), who are forced by Kinga Forrester (Felicia Day, The Guild, Dr. Horrible's Sing-Along Blog) to watch (and hilariously mock) terrible movies onboard the Satellite of Love. Comedian Patton Oswalt (Young Adult) will appear as TV's Son of TV's Frank, Kinga's henchman. Star Wars star Mark Hamill is slated to be one of many guest stars throughout the season.
The new season of Mystery Science Theater 3000 and some classic episodes are available on Netflix now.