'Girls Trip' Trailer: Ready For A Wild Ladies Night Out In New Orleans?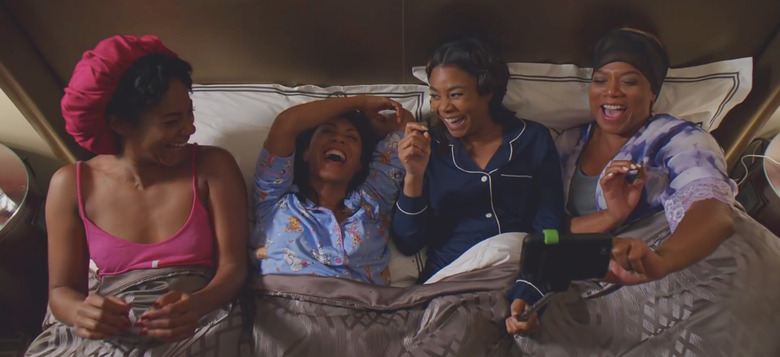 With Snatched hitting theaters this past weekend, studios threw out new trailers for some of their upcoming comedies that are being geared towards female audiences. Rough Night debuted a new trailer last week, and now a new trailer for what could easily be a companion comedy has arrived.
Girls Night follows Regina Hall (About Last Night), Queen Latifah (Chicago), Jada Pinkett Smith (Bad Moms) and Tiffany Haddish (Keanu) as four longtime friends who get together for a weekend getaway down in New Orleans for the Essence Festival. However, unlike Rough Night, there doesn't seem to be a dead body involved, though there are definitely some drugs, raunchy humor and plenty of bonding.
Watch the new Girls Trip trailer after the jump.
This quartet of women really seems to have some chemistry, which will hopefully help the movie feel a little less derivative by going through the motions of partying out in the city, not-so-accidentally doing some kind of drug that makes the night even crazier, and trying to find some action.
This new trailer does give us a little taste of the extra story that's involved here, which includes Regina Hall learning that her man (played by Luke Cage star Mike Colter) hasn't been as dedicated to the relationship as she has. That will surely act as a catalyst for more female bonding in the end.
Personally, I don't think this trailer hits the funny bone as hard as the first red band trailer that was released earlier this year, but I must say that I think Tiffany Haddish will be the breakout star of this movie. She looks like she'll have a role that stands out in the same way that Melissa McCarthy did in Bridesmaids, and that's already after she had a fantastic turn in Keanu a little while back.
Much like movies such as Barbershop and Best Man Holiday, this comedy has its sights set on getting the attention of predominantly black crowds. It's also directed by the same filmmaker, Malcolm D. Lee. But even so, it feels like it could strike a chord with any audience looking for a good time. With Get Out getting a bunch of box office attention and studios taking chances on more female led comedies that aren't typical romantic comedies, we're certainly starting to see a bit more diverse representation in movies and at the box office. So hopefully that's a trend that continues.
When four lifelong friends—Regina Hall, Queen Latifah, Jada Pinkett Smith and Tiffany Haddish—travel to New Orleans for the annual Essence Festival, sisterhoods are rekindled, wild sides are rediscovered, and there's enough dancing, drinking, brawling and romancing to make the Big Easy blush.
Girls Trip is directed by hits theaters on July 21.