'A Christmas Story', 'Rent' & 'Jesus Christ Superstar' Are The Next Live Musicals On Network TV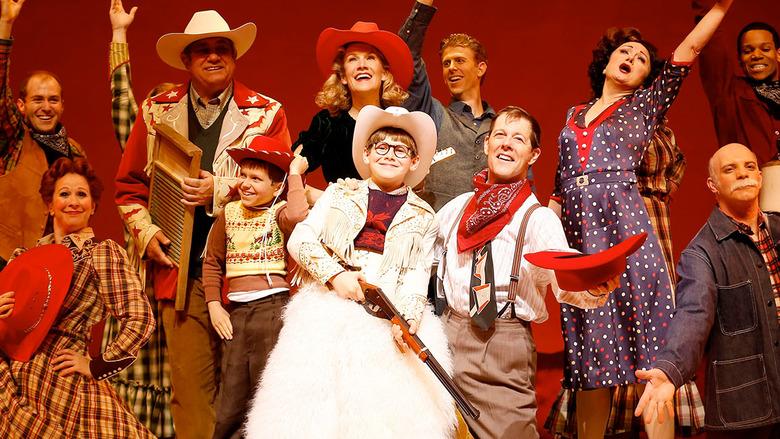 The trend of live broadcast musical productions on network television will continue in the coming year with three new projects announced at the competing networks of NBC and FOX. The two have been going back and forth with musical productions in recent years with NBC tackling the likes of The Sound of Music, Peter Pan, The Wiz and Hairspray and FOX taking on Grease and The Rocky Horror Picture Show. The latter has some catching up to do, which is probably why they've announced two upcoming musical adaptations while NBC has just announced one.
Over at FOX, they'll be tackling A Christmas Story, which has already been turned into a Tony-winning musical on stage, and the famous Broadway musical RENT. Meanwhile, NBC will take on a much older musical in the form of Jesus Christ Superstar. Find out more details on each after the jump.
A Christmas Story Arrives This Holiday Season
FOX has announced the 1983 classic film turned stage musical will be their next live production with the A Christmas Story musical live production arriving on TV just in time for the holidays this December.
Grease: Live and La La Land producer Marc Platt is behind the three-hour production, and he's bringing the lyricists from the aforementioned Best Picture nominated film with him. Benj Pasek and Justin Paul, who won an Oscar for their song "City of Stars", scored A Christmas Story: The Musical, and they'll be writing a few new songs for the live TV version as well. As for the book, which is the Broadway term for the story that strings all the music together, that will be adapted by Grease: Live writers Jonathan Tolins and Robert Cary.
The original musical was nominated for three Tony Awards including the coveted Best Musical, as well as Best Original Score and Best Book of a Musical. That's a lot to live up to, but hopefully this adaptation will make for some holiday fun that the whole family can enjoy this Christmas.
Rent Is Coming in 2018
After debuting in 1996 and running through 2008, Rent became the 11th longest-running show on Broadway with 5,123 performances, including a feature film adaptation in 2005. Now TV Line reports the musical about a group of artists trying to make it in New York City while AIDS plagues the population is coming to television.
Marc Platt will also serve as executive producer of Rent, which will follow A Christmas Story sometime in 2018. It's still early so there's no word on who is taking on the score or the book for Rent, but there are a myriad of versions of the story to inspire the live version. Dana Walden and Gary Newman, Chairmen and CEOs of Fox, had this to say about the project:
"We are so honored to partner with the estate of the brilliant Jonathan Larson and producer Marc Platt on one of the great musicals of our time. The title is so iconic, the music is so beloved, and the themes are as meaningful today as they were when the show first premiered on Broadway. With Marc overseeing this project, we are sure it will have a profound impact on the legions of fans who know and love this musical."
NBC Brings Jesus Christ Superstar Back from the 1970s
The rock opera Jesus Christ Superstar will get an advantageous holiday release on Easter Sunday next year, which just so happens to fall on April 1, 2018. For those who don't know, the show follows the final week in the life of Jesus Christ, and features some key figures from the Bible, including Judas Iscariot, Mary Magdalene, Pontius Pilate, Caiaphas, Annas, Peter, Simon Zealotes, and King Herod.
The show's original creators Andrew Lloyd Webber and Tim Rice are executive producing the show in addition to providing music and lyrics for the new adaptation. Marc Platt gets a trifecta for live television musical productions because he's also executive producing this show along with Craig Zadan and Neil Meron. Apparently Platt is the guy to go to in Hollywood when it comes to musicals, and he's got no shortage of jobs to keep him busy.
As of now, there are no cast members are attached, but NBC is already on the hunt, reportedly interested in authentic recording artists. It's not clear if that means they will get some big name talent for the pivotal roles, or if they're just looking for the best singers without a worry of star power. We'll find out as the project develops.
Don't forget that NBC also has a live production, albeit non-musical, of A Few Good Men coming to air this year as well. Aaron Sorkin is working on that project, so that should be one to keep an eye on too. If any big news about these new live musical comes out of the wood work, we'll be sure to let you know.