The New 'Baby Driver' Poster Is All Fast Cars, Big Guns, And Earbuds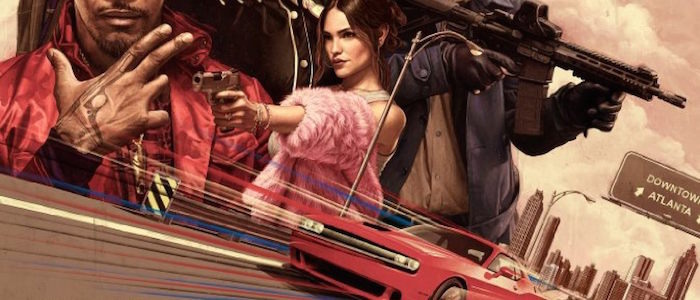 The funny thing about this new Baby Driver poster is that, technically, it represents everything we hate about modern movie poster designs: it's all giant floating heads hovering over a city skyline. However, there's one key difference and it means everything. This poster is hand-illustrated. Suddenly, the go-to choice for hacky Photoshopped posters looks stunning. This should be a new rule – marketing departments are only allowed to make floating head movie posters if they hire a talented artist to bring it to life. The walls of our multiplexes will thank you.
Anyway, you can check out the new Baby Driver poster below.
I don't want to sound like a broken record, but I also want to make sure that every movie fan with enough loose change to buy a movie ticket knows that they should prioritize Baby Driver. Edgar Wright's latest movie is a total joy, a crowd-pleasing action movie made by a serious movie buff for serious movie buffs (as well their less film-centric friends and family, who will enjoy the wild car chases and performances, even if the specific references go over their heads). This poster, a colorful throwback filled with fast cars and big guns, does a fine job of selling the movie's energy.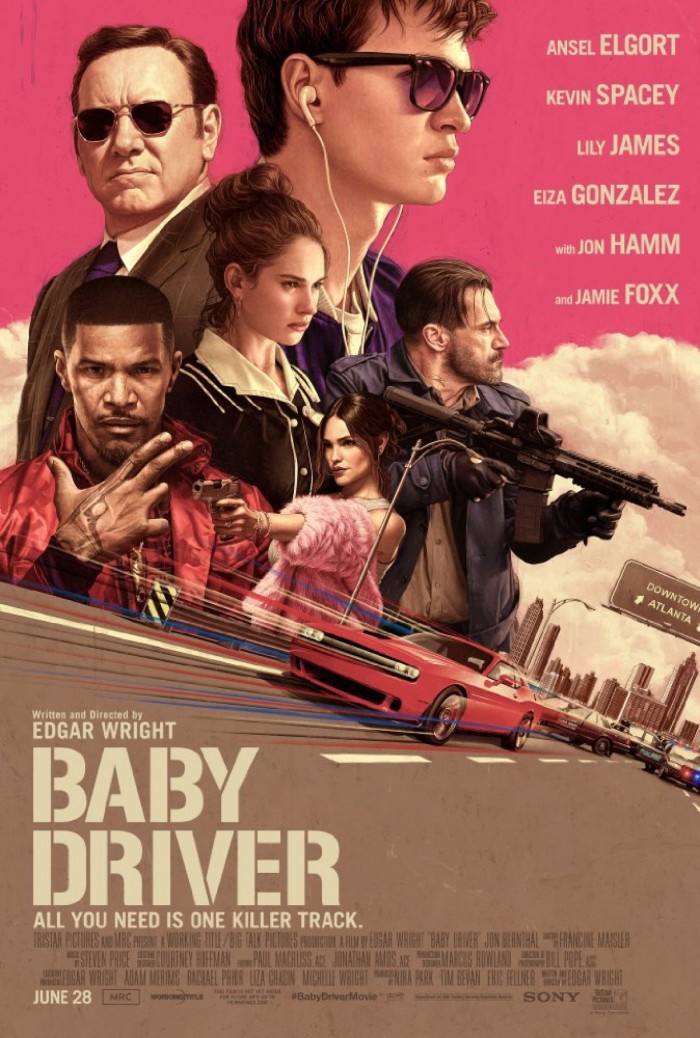 For an alternate look at this poster, Wright revealed a motion version, which zooms around the art like an out-of-control automobile:
On June 28th, all you need is one killer track. #BabyDriverMovie only in theaters. Tap to see the full NEW poster! pic.twitter.com/tg3pmehTkT

— edgarwright (@edgarwright) May 11, 2017
There is one aspect of the film that these posters cannot sell: the music. I was able to see Baby Driver at its premiere at the SXSW Film Festival a few months ago and what marketing doesn't tell you is that Edgar Wright has essentially gone and made an action movie musical, albeit one where no one actually breaks into song:
Baby Driver would be a fine action/heist movie if it was just that, but Baby's music-driven existence gives the film an immediate and clever hook. With virtually every scene set to our hero's eclectic soundtrack of oldies, indies, and everything in-between, the film becomes a musical. No one breaks into song, but they might as well. The rhythm of machine gun fire aligns with the beat of the soundtrack. Cups of coffee placed on a table act as a percussion back-up to the song blasting through the speakers. A walk through the city streets becomes a full-blown musical number that only we can notice, as the mundane choreography of day-to-day living syncs up with the music playing in Baby's ears.
Baby Driver arrives in theaters on June 28, 2017. The equally great first poster, which adversities the movie's original opening date, can be seen below.