'King Arthur: Legend Of The Sword' Featurette: Jude Law Is Hungry For More Power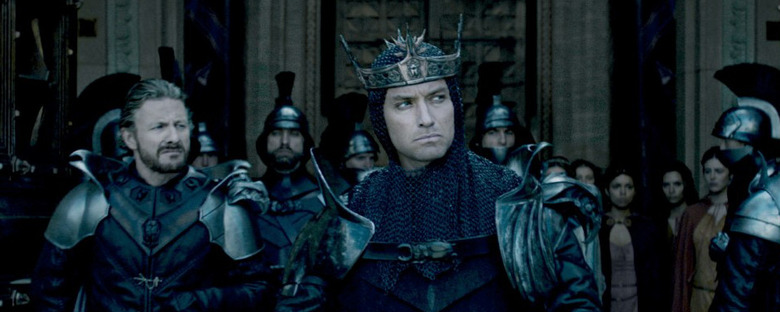 Initially scheduled to come out almost ten months ago, Guy Ritchie's King Arthur: Legend of the Sword finally opens in theaters this Friday. Unfortunately, it's going up against Guardians of the Galaxy Vol. 2 without the most promising buzz. Early reviews haven't been kind to the film, and box-office analysts don't see it going beyond $25 million this weekend. It is the new movie from Guy Ritchie, though, whose name, reviews be damned, is enough to get some of us to the theater.
Below, watch the King Arthur: Legend of the Sword featurette on Vortigern (Jude Law).
Charlie Hunnam's performance in The Lost City of Z left me interested in seeing whatever he does next. What's next for him happens to be King Arthur, which started shooting over two years ago and was once said to be part one of a six-part series. Talk of a franchise has died down lately, though.
The last trailer made the film look like a big and potentially messy fantasy pic, with Led Zeppelin blaring, Arthur's magical, slow-motion inducing sword, a gigantic elephant, and the kind of frenetic energy we expect from Ritchie. The story of Arthur reclaiming the throne doesn't appear to lack scope. Whether it has more to offer than that, we'll see this weekend.
Coming off hot after The Man From U.N.C.L.E., a joyful popcorn movie, it would be disappointing if King Arthur: The Legend of the Sword turned out to be miss from Ritchie. He's a filmmaker with good taste and style, so I imagine even if King Arthur: The Legend of the Sword is as underwhelming as the critical consensus suggests, maybe it'll at least have some high-energy sequences from the director, whose next project is possibly Alladin.
Here's the official synopsis:
Acclaimed filmmaker Guy Ritchie brings his dynamic style to the epic fantasy action adventure "King Arthur: Legend of the Sword." Starring Charlie Hunnam in the title role, the film is an iconoclastic take on the classic Excalibur myth, tracing Arthur's journey from the streets to the throne.
When the child Arthur's father is murdered, Vortigern (Jude Law), Arthur's uncle, seizes the crown. Robbed of his birthright and with no idea who he truly is, Arthur comes up the hard way in the back alleys of the city. But once he pulls the sword from the stone, his life is turned upside down and he is forced to acknowledge his true legacy...whether he likes it or not.
King Arthur: Legend of the Sword is in theaters May 12.