The 'Suspiria' Remake Draws Radiohead's Thom Yorke Into Its Web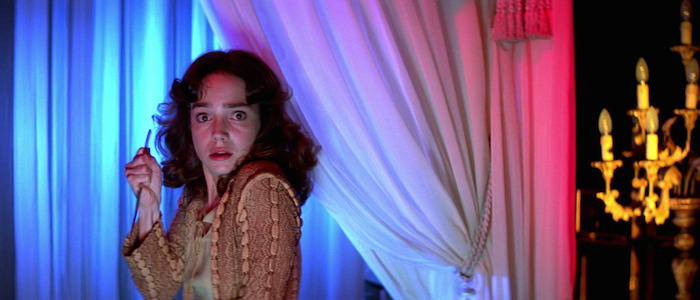 Dario Argento's Suspiria is one of the greatest horror movies of all time, a surreal voyage into a realm of unanswerable questions, horrible mysteries, and visuals that defy reality. It's a colorful nightmare. It's a 98-minute fever dream. And its score, by Goblin, will melt your skin off and explode your ear drums.
While the news of a Suspiria remake was greeted with jeers by horror fans, it's undeniable that something interesting is going on here. Luca Guadagnino, the director of I Am Love and A Bigger Splash, is behind the camera and he's an inspired choice to take on a movie about a ballet school operated by an evil cult of witches. And now, things just got a little more interesting: Radiohead's Thom Yorke has signed on to score the film.
The press release announcing Yorke's hiring comes with these glowing words from Guadagnino about his new composer:
Thom's art transcends the contemporary. To have the privilege of his music and sound for Suspiria is a dream come true. The depth of his creation and artistic vision is so unique that ourSuspiria will sound groundbreaking and will deeply resonate with viewers. Our goal is to make a movie that will be a disturbing and transforming experience: for this ambition, we could not find a better partner than Thom.
Best known as the lead singer of Radiohead, Yorke is a multi-instrumentalist, capable of playing guitar, piano, keyboards, bass, drums, and synthesizers. He's not the first member of the group to venture into the realm of film scores, as guitarist Jonny Greenwood has made quite the impression amongst film fans with his scores for There Will Be Blood, The Master, and We Need to Talk About Kevin. Radiohead may be a popular rock band, but there's an artistry and an atmosphere to their work that feels inherently cinematic. If Yorke can operate on a similar level as Greenwood, we could be in for one hell of a score.
And it needs to be be one hell of a score, because Goblin's Suspiria theme is my favorite horror theme of all time (sorry, Jaws and Halloween). Listening to it makes my skin crawl in the best possible way – it's melodic enough to invite your ears to open up...and then those demonic whispers crawl right in and chill you to your core. Honestly, I don't even want Yorke to replicate this theme. I want him to create something entirely new that captures the mystery and terror of this score in a completely different way.
The Suspiria remake stars Dakota Johnson, Tilda Swinton, Mia Goth, Chloë Grace Moretz, and original star Jessica Harper, a line-up feels like another reason to get really pumped for this movie. Man, I can't believe I'm anticipating a remake of a great, singular horror movie, but here we are.
Suspiria doesn't have a release date yet, but Amazon Studios will release it later this year. Here's the official synopsis:
Susie Bannion, a young American woman, travels to the prestigious Markos Tanz Company in Berlin in the year 1977. She arrives just as one of the Company's members, Patricia, has disappeared under mysterious circumstances. As Susie makes extraordinary progress under the guidance of Madame Blanc, the Company's revolutionary artistic director, she befriends another dancer, Sara, who shares her suspicions that the Matrons, and the Company itself, may be harboring a dark and menacing secret.