'War Machine' Trailer: Brad Pitt Tries To Turn War Into A Laugh Riot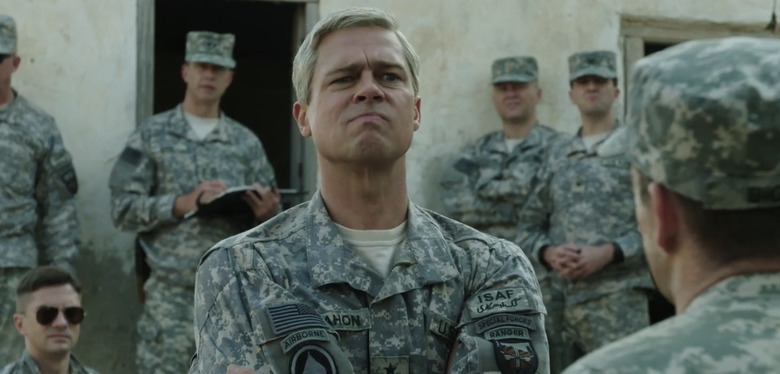 Right now political satire is at its best simply because everything coming out of Washington DC is just as laughable as it is disheartening. The only way we can cope with this kind of nonsense is to make fun of it, and that's exactly what Netflix's new movie War Machine appears to be doing with the war in Afghanistan.
Brad Pitt plays a fictionalized version of four-star General Stanley McChrystal (named as General Glen McMahon in the movie), the commanding general of international and US forces in Afghanistan. The real life general's career tanked after a journalist exposed the wild partying, unorthodox behavior and surprising incompetence that took place behind the scenes of this military operation that appears to be unwinnable despite the general's best efforts, and it appears that's exactly what we'll see happen in this movie, albeit with a bit more of an exaggerated comedic spin.
See the war satire on full display in the new War Machine trailer after the jump.
War Machine Trailer
After the first trailer was released, this movie didn't really feel all that appealing. It looked like something along the lines of The Men Who Stare at Goats, or another movie trying to be a Coen Brothers kind of comedy, but I just couldn't get past Brad Pitt's ridiculous persona in the movie. However, seeing it in this context somehow works better. It shows more of the screwball side of the comedy, which I think meshes better with the kind of performance Pitt is putting in.
Outside of Pitt being completely goofy, the rest of the cast is an impressive ensemble that includes Emory Cohen, RJ Cyler, Topher Grace, Anthony Michael Hall, Anthony Hayes, John Magaro, Scoot McNairy, Will Poulter, Alan Ruck, Lakeith Stanfield, Josh Stewart, Meg Tilly, Tilda Swinton and Sir Ben Kingsley, all under the direction of Animal Kingdom director David Michôd.
The Netflix original film is inspired by the book The Operators: The Wild & Terrifying Inside Story of America's War in Afghanistan by the late journalist Michael Hastings.
In a film for our times, writer-director David Michôd (Animal Kingdom) recreates a U.S. General's roller-coaster rise and fall as part reality, part savage parody – raising the specter of just where the line between them lies today. His is an anti-establishment, pro-soldier exploration in the form of an absurdist war story of a born leader's ultra-confident march right into the dark heart of folly. At the story's core is Brad Pitt's sly take on a successful, charismatic four-star general who leapt in like a rock star to command NATO forces in Afghanistan, only to be taken down by his own hubris and a journalist's no-holds-barred expose. War Machine addresses the debt we owe to soldiers to question the purposes to which they are being directed.
War Machine hits Netflix on May 26.