The Great Character Actor Michael Parks Has Died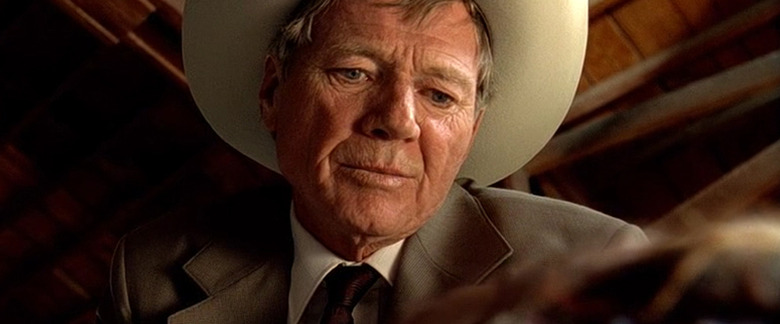 Michael Parks, who began his career as a prolific television actor before evolving into a secret weapon for directors like Quentin Tarantino, Robert Rodriguez, and Kevin Smith, has passed away at the age of 77. He leaves behind a filmography filled with tremendous performances – his work stands up whether it's planted in the middle of a masterpiece or a dud.
The news was revealed by director Kevin Smith, who announced Parks' passing with a tribute on his Instagram page. Smith had directed Parks in Red State and Tusk, writing both characters specifically for him. It's that latter performance that stands out from their collaborations. No matter your opinion on Tusk, Parks' performance in the film is undeniably captivating and evidence of his uncanny ability to lend even the most ridiculous material all kinds of gravitas.
I hate to report that my cinematic muse #michaelparks has passed away. Michael was, and will likely forever remain, the best actor I've ever known. I wrote both #RedState and @tuskthemovie FOR Parks, I loved his acting so much. He was, hands-down, the most incredible thespian I ever had the pleasure to watch perform. And Parks brought out the absolute best in me every time he got near my set. From the moment I saw him steal the opening scene of #fromdusktildawn at an advance screening at the Sunset 5 back in the mid-90's, I said to @samosier "Could you imagine what it must be like to work with a Yoda of acting like that guy? I gotta write for him one day." It took me 15 years but my dream came true on Red State (for which Parks won Best Actor at the @sitgesfestival) and then again years later with #tusk. Only Michael Parks could have delivered the line "Is man indeed a walrus at heart?" and make it scary as fuck. My favorite memory of Michael is watching him and #johnnydepp act with and at each other, like a couple of dueling wizards, in their shared scene in Tusk. Parks was in Heaven that day, sharing the screen with another brilliant actor and creating an unforgettable performance. He elevated any flick or TV show he was in and elevated every director he ever acted for. I was so fucking blessed to have worked with this bonafide genius. But really, I was just lucky to have known him at all. My heart goes out to James (Michael's son), Oriana (Michael's wife), Quentin Tarantino (Michael's biggest fan) and any movie or music lover who was ever dazzled by the talents of Michael Parks. Farewell, old friend. I'll see you farther along... #KevinSmith #actor #genius #rip #walrusyes
A post shared by Kevin Smith (@thatkevinsmith) on
Born on April 24, 1940 in Corona, California, Parks broke into the film industry via television, where he made his debut is shows like The Untouchables, The Asphalt Jungle, and The Detectives. He worked steadily throughout the '60s, eventually landing the lead role in the series Then Came Bronson. While the show seemed primed to elevate Parks to leading man status, his criticisms of the series and the Hollywood system in general landed him in hot water and the '70s and '80s saw him once again return to playing supporting roles in film and television.
Although he continued to work steadily, his career renaissance didn't kick in until the '90s, when he was cast as Jean Renault in Twin Peaks and Earl McGraw in Robert Rodriguez's From Dusk Till Dawn. While he continued to pop up across various movies and TV shows in supporting roles, he also began to appear in films from directors who were loud and proud pop culture junkies, filmmakers who would have been familiar with his long and storied career. He played two roles in both of Quentin Tarantino's Kill Bill movies and reunited with Rodriguez for Planet Terror before teaming up with Kevin Smith for Red State and Tusk. He would later reunite with Tarantino once more in Django Unchained.
During this period, he also appeared in Andrew Dominik's The Assassination of Jesse James by the Coward Robert Ford and Ben Affleck's Oscar-winning Argo, where he played comic book artist Jack Kirby. In addition to his acting career, Parks was also a musician, recording eight albums between 1969 and 2011. He also sang the theme song for Then Came Bronson, which was a Billboard hit.
Parks is survived by his son and wife. While never a huge name, the movies have lost a tremendous talent.