'Hellboy' Reboot Will Be Darker And More Gruesome, Like The Comics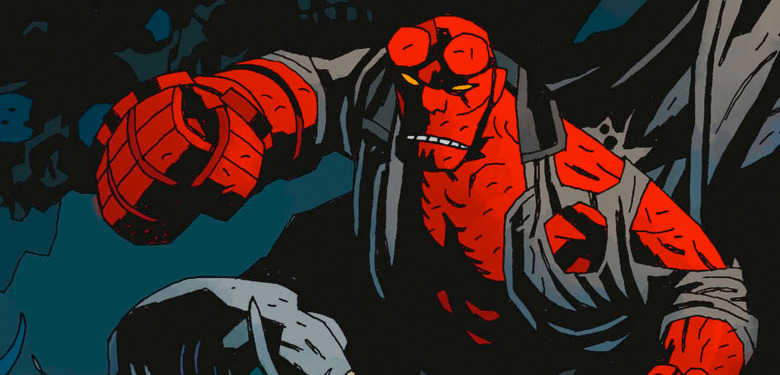 This week brought the surprising news that instead of seeing Hellboy 3 come to fruition, comic creator Mike Mignola was teaming with Millennium Pictures to reboot Hellboy as a new feature film franchise. Stranger Things star David Harbour is going red in the titular role and Game of Thrones director Neil Marshall getting behind the camera. Naturally, some fans are loyal to the franchise created by Guillermo del Toro and starring Ron Perlman, but this Hellboy reboot promises to be its own thing.
Our own Jacob Hall already wrote why a Hellboy reboot might be something fans enjoy, if only because it sounds like it will be more in line with creator Mike Mignola's vision from the comics. Now we have word from the film's screenwriter Andrew Cosby about what we can expect from the new Hellboy.
Andrew Cosby recently spoke with Silver Screen Beat and said as much as he could about the developing project:
"I can't really talk about specifics with regard to the story, which they're keeping a pretty tight lid on at the moment, but I can say that this is a darker, more gruesome version of Hellboy. Neil said from the very beginning that he wanted to walk a razor's edge between horror and comic book movie, which was music to my ears, because that's what I was shooting for in the script, and precisely what Mignola does so well with the comics."
The horror element of Hellboy is something that was largely missing from Guillermo del Toro's film franchise. Instead, Hellboy and Hellboy II: The Golden Army embraced the sci-fi and fantasy side of the comics, which made for some amazing creature effects and action sequences, not to mention some solid comedy. But seeing Hellboy through the lens of another genre could be rather refreshing, especially with an R-rating giving the franchise a little more freedom to be darker.
Still, I find myself torn between seeing an all-new take on Hellboy that's more loyal to the tone of the comics created by Mike Mignola and the conclusion to the franchise that Guillermo del Toro started. It's a shame that there appears to be some bad blood between del Toro and Mignola, otherwise we might have been able to see the story finished. Unfortunately all we have to go on are the previously revealed story details about Hellboy being tasked with destroying civilization as the beast of the apocalypse, and it's a bummer that we won't see it come to fruition, at least not as we originally thought.
Are you looking forward to a darker, more gruesome version of Hellboy?