'Baywatch' Red Band Trailer Wants You To Get Rocked And Ef'd This Summer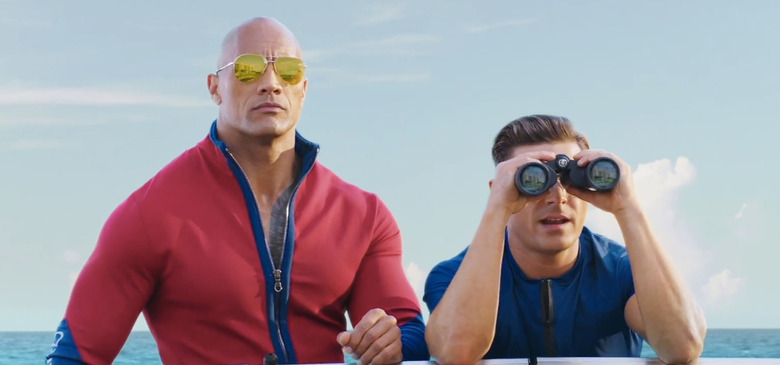 A few studio comedies try to break up the summer blockbuster spectacle every year, but some try to combine the laughs with the action. That's exactly what the big screen adaptation of Baywatch is trying to do by teaming up Dwayne Johnson and Zac Efron in what Paramount Pictures hopes will be their own 21 Jump Street.
So far, the trailers for Baywatch have been unimpressive in the comedy department, but a new red band trailer for the summer comedy is easily the best one yet, though it still doesn't look like the quality buddy cop comedy that it's trying to be.
Watch the new red band Baywatch trailer below.
Following the punny Central Intelligence trailer bumpers that advertised the movie as having a "little Hart" and a "big Johnson" before, Baywatch proposes that you "get Rocked" and then "get ef'd" this summer, taking a cue from Dwayne Johnson and Zac Efron's names. The last one is a bit of a stretch, but whatever works, I guess.
I'm glad that Alexandra Daddario is starting to get some more screentime in the marketing, showing that she gets some funny moments of her own and isn't just one of the sexy actresses being touted around in a bathing suit. Still, it looks like most of what she's doing is just reacting to Johnson and Efron's antics. Meanwhile, I'm still waiting to see how Kelly Rohrbach fares in her first feature film role. So far they only used her reputation as a Sports Illustrated model to give her a presence in Baywatch, but hopefully she's got some acting chops too.
The rest of the cast includes Jon Bass, Ilfenesh Hadera, Yahya Abdul-Mateen II and Bollywood star Priyanka Chopra as the villainous vixen, who was given the spotlight in the previous Baywatch trailer. Fans of the original series (I'm sure they still exist) will also be happy to see David Hasselhoff and Pamela Anderson pop up in some capacity as well.
Seth Gordon is directed Baywatch, and hopefully, it will be a fun summer comedy that is more in line with his work on Horrible Bosses than Identity Thief and doesn't just tread the same water as 21 Jump Street. Here's the official synopsis:
'Baywatch' follows devoted lifeguard Mitch Buchannon (Dwayne Johnson) as he butts heads with a brash new recruit (Zac Efron). Together, they uncover a local criminal plot that threatens the future of the Bay.
Baywatch surfs into theaters on May 25, 2017.