'Game Over, Man!' Trailer: The 'Workaholics' Guys Get Their Own Netflix Movie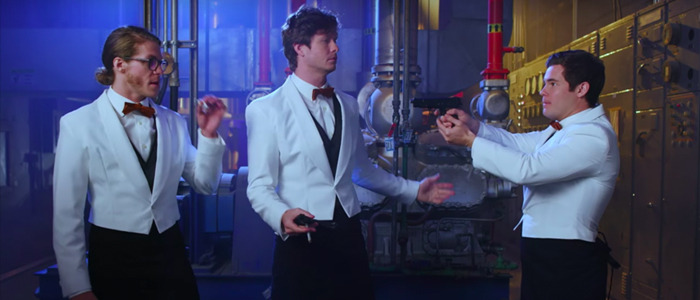 The Comedy Central series Workaholics came to an end earlier this year after a seven-season run, but the comedy's stars aren't going away any time soon. Adam DeVine just hosted the MTV Movie and TV Awards this past weekend, and he and former co-stars Anders Holm and Blake Anderson have a new movie in the works at Netflix. It's called Game Over, Man!, and you can check out the first teaser trailer below.
Game Over Man trailer
That trailer, while humorous, doesn't reveal anything about the movie's plot. What little we do know comes straight from Netflix's website:
In this action comedy, three friends are on the verge of getting their video game financed when their benefactor is taken hostage by terrorists.
If they're video game designers, why are they dressed as waiters? Perhaps they go undercover on a rescue mission to reclaim their benefactor? I wonder if this will be one of those kinds of movies in which the game they've designed is similar to the events they find themselves in when they encounter these terrorists. We might have a real Surf Ninjas/Sega Game Gear scenario on our hands with this one. Or perhaps there's a more literal connection to James Cameron's Aliens buried somewhere in the story beyond just the Hudson-inspired title. (RIP, Bill Paxton.)
Honestly, the official plot description sounds like this could go either way. Those who appreciate this group's humor from Workaholics will likely find some laughs, and it looks like they're leaning heavily into its 4/20 release date with some stoner comedy. But those, like myself, who find DeVine a more grating pale imitation of Jack Black, I can see this getting really annoying really quickly. Your mileage may vary, but since this movie is still over a year away from release, I suspect we'll discover more about it in the months to come. There's plenty of time to sway some opinions in either direction.
Longtime Workaholics director Kyle Newacheck will direct, which makes this film a full reunion for the members of Mail Order Comedy, a troupe consisting of the four aforementioned filmmakers that started back in 2006 and is old enough to have "stars of the first-ever hidden camera series produced exclusively for MySpace" on their resume. If nothing else, this movie will be an interesting opportunity to see how these guys have evolved in the decade-plus since they've been working together.
Game Over, Man! hits Netflix on April 20, 2018.