LOL: Watch Justin Roiland Get Drunk To Record 'Rick & Morty' Dialogue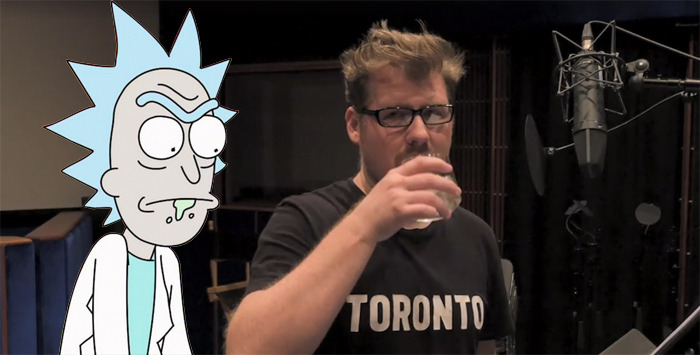 Fans are anxiously awaiting the return of Rick and Morty after the surprise third season premiere debuted on April Fools Day earlier this year. We still don't have a confirmed release date for the rest of the season of the Adult Swim series, but the late night Cartoon Network programming block has provided another tease of what's to come with a special look behind the scenes.
Rick and Morty co-creator Justin Roiland is responsible for voicing both of the title characters in the animated series. And since the former character is an alcoholic, sometimes co-creator Dan Harmon suggests Roiland get a little bit liquored up before he does some of the voice recording. In the case of the upcoming fourth episode of the third season, apparently it's integral to whatever is happening, and Adult Swim has shown off what it's like to work with a drunk Justin Roiland.
Watch the Rick and Morty voice recording featurette after the jump.
In addition to frequently going off script, much to the dismay of the show's associate producer Sydney Ryan, the co-creator and voice actor takes some strange tangents to briefly ponder what happens to us after we die, not to mention hoping out loud that whoever the next president is will let him buy a gun for a rather depressing reason.
Honestly, I'm not entirely sure that it's necessary for Justin Roiland to get drunk to properly play Rick. But one thing seems clear from this video, and that's how much Roiland's personality informs Rick, even if the co-creator doesn't seem to be quite as mad or unhinged as Morty's brilliant, inebriated, selfish grandfather.
Rick and Morty returns to Adult Swim sometime this summer.