Will Ferrell Is Jason Momoa's TV Dad In A New Comedy At Paramount Pictures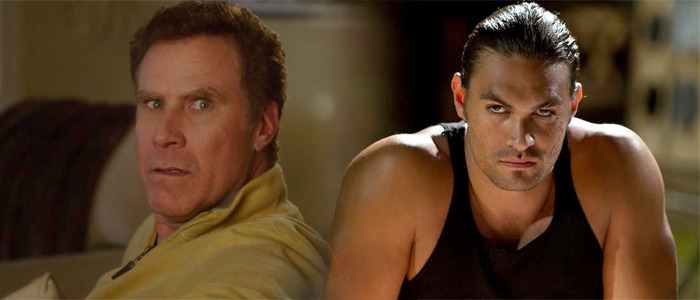 Back in 2015, Will Ferrell went head-to-head with Mark Wahlberg in Daddy's Home, create a battle between stepfather and father. Soon he'll have to contend with another Hollywood tough guy on the big screen.
Paramount Pictures has lined up Will Ferrell to co-star with Aquaman star Jason Momoa in a currently untitled comedy from the filmmakers behind movies such as Forgetting Sarah Marshall, Neighbors 2: Sorority Rising, Yes Man and The D-Train. Find out more about the Will Ferrell and Jason Momoa movie after the jump.
Deadline has news of the comedy that was just recently pitched and picked up by Paramount Pictures. The script is coming from Andy Mogel & Jarrad Paul, who wrote and directed the Sundance selected comedy The D-Train together, and it will be produced by Forgetting Sarah Marshall and The Muppets director Nicholas Stoller and Will Ferrell's own Gary Sanchez Productions.
The studio wasn't prepared to reveal the logline for the movie, but the report noted that those who heard the pitch described it as Galaxy Quest meets Ocean's Eleven. Does that mean it follows characters who get confused for skilled thieves and are forced to pull off an impossible job? That would be a safe assumption but another detail doesn't really fit in to that possible storyline.
Reportedly Will Ferrell is playing a washed up TV star who reunites with the actor (Jason Momoa) who played his young TV son, but he's now grown up and a huge star. That dynamic sounds like it would make for an interesting story on its own, but I'm not entirely sure how it would fit into a movie the fits the aforementioned description. But hopefully we'll find out soon.
No matter what the story is, I'm extremely excited to see Jason Momoa cut loose with a comedy like this. I feel like he's been relegated to these rough around the edges characters that don't allow him to show his range. Momoa is quite the goofy, charismatic and lighthearted guy, and if you need evidence of that, check out this interview:
Interestingly enough, Mogel & Paul previously wrote the TV show The Grinder, which was also about a washed up TV star from a popular legal drama trying to fit in at his family's law firm. This doesn't sound like it's quite the same, but at least we know Mogel & Paul know how to play with that kind of character. Though The Grinder was canceled, it was a sorely underrated series, and the same can be said for the duo's indie comedy The D-Train.
As of now, there's no director attached to the project, and I'm surprised that Nicholas Stoller isn't at the helm after directing comedies such as Forgetting Sarah Marshall and Neighbors. But maybe Gary Sanchez Productions is looking to give someone else a shot behind the camera instead.