'Spider-Man: Homecoming' TV Spot: The Local Hero Scares Some Kids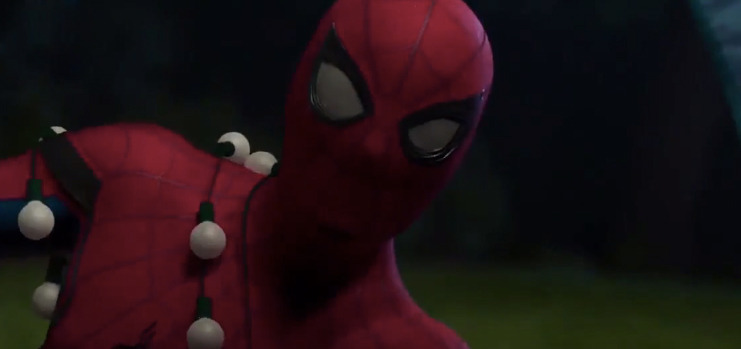 Last night's MTV Movie & TV Awards brought the first clip from Spider-Man: Homecoming featuring Peter Parker (Tom Holland) trying to sneak back into his room, only to accidentally reveal that he's Spider-Man to his friend Ned Leeds (Jacob Batalon). Now we get another look at this summer's reboot of the Spider-Man franchise with a TV spot that shows off some new footage.
In this spot, we get to see Spider-Man taking on some small-time criminals while still being hungry for the next "retreat" that he gets to go on with Tony Stark (Robert Downey Jr.) and the Avengers. But the best part is the funny gag at the end where Spider-Man inadvertently scares the hell out of some kids camping in their backyard.
Watch the Spider-Man Homecoming TV spot below.
Even though Spider-Man: Homecoming will be the second time the comic book character has been rebooted in just five years, the ties to the Marvel Cinematic Universe allow this new version of the webslinger to be something different. Plus, without the burden of the same old origin story unnecessarily being told again, we're allowed to focus on the fact that Peter Parker is a teenager who is desperate to be a superhero instead of just a normal high school kid. That's a story we haven't seen told in the MCU yet, and the teenage angle feels like it might be explored in a much more authentic way than we've seen before.
What's also interesting is that the marketing campaign hasn't give us much of Michael Keaton as Vulture so far. He was quite prominent in the most recently released trailer, but I'm hoping they hold a lot of the footage featuring his villainous side back so we can see it in the movie.
Spider-Man: Homecoming is directed by Jon Watts (Cop Car) and has a supporting cast that includes Zendaya, Laura Harrier, Jacob Batalon, Marisa Tomei, Donald Glover, Bokeem Woodbine, Logan Marshall-Green, Tony Revolori, Jon Favreau and more.
A young Peter Parker/Spider-Man (Tom Holland), who made his sensational debut in Captain America: Civil War, begins to navigate his newfound identity as the web-slinging super hero in Spider-Man: Homecoming.  Thrilled by his experience with the Avengers, Peter returns home, where he lives with his Aunt May (Marisa Tomei), under the watchful eye of his new mentor Tony Stark (Robert Downey, Jr.). Peter tries to fall back into his normal daily routine – distracted by thoughts of proving himself to be more than just your friendly neighborhood Spider-Man – but when the Vulture (Michael Keaton) emerges as a new villain, everything that Peter holds most important will be threatened.
Spider-Man: Homecoming is set to open on July 7 this summer.