Second 'It' Trailer: Terror Lies In The Sewers Of Derry, Maine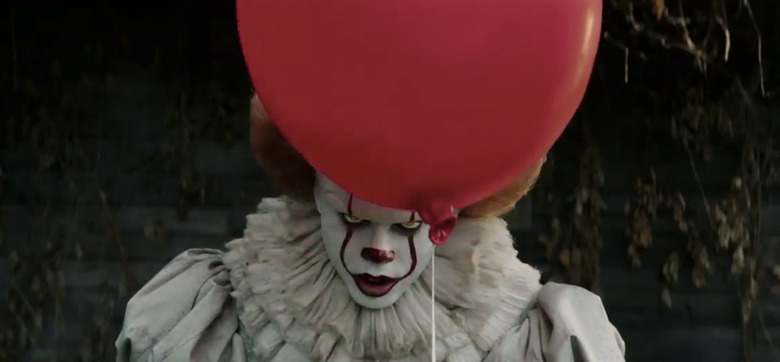 For anyone who has coulrophobia, a fear of clowns, you'll probably want to steer clear for the latest trailer for the new adaptation of Stephen King's beloved horror novel It.
Much like the first trailer, It doesn't go out of its way to try to terrify you with cheap jump scares. Instead, they let suspense do the work as the audience anticipates something horrible happening. In this instance, mysterious disappearances have the town of Derry, Main on edge, even going so far as to institute a curfew. But a group of kids apparently aren't scared enough of the abductions as they continue to ride around town on their bikes, exploring the dark, damp sewers where a terrifying monster resides.
Watch the new It trailer after the jump.
It Trailer
This It trailer is edited more like a clip than a full-on trailer. The scene follows the boys as they discover something in the sewers – a terrifying reveal of Pennywise. The clown many of used to have nightmares of as a child looks a lot more frightening this time around.
The official synopsis for It follows:
New Line Cinema's horror thriller "IT," directed by Andrés Muschietti ("Mama"), is based on the hugely popular Stephen King novel of the same name, which has been terrifying readers for decades. When children begin to disappear in the town of Derry, Maine, a group of young kids are faced with their biggest fears when they square off against an evil clown named Pennywise, whose history of murder and violence dates back for centuries.
"IT" stars Bill Skarsgård ("Allegiant," TV's "Hemlock Grove") as the story's central villain, Pennywise.  An ensemble of young actors also star in the film, including Jaeden Lieberher ("Midnight Special"), Jeremy Ray Taylor ("Alvin and the Chipmunks: The Road Chip"), Sophia Lillis ("37"), Finn Wolfhard (TV's "Stranger Things"), Wyatt Oleff ("Guardians of the Galaxy"), Chosen Jacobs (upcoming "Cops and Robbers"), Jack Dylan Grazer ("Tales of Halloween") and Nicholas Hamilton ("Captain Fantastic"). Muschietti directed "IT" from a screenplay by Chase Palmer & Cary Fukunaga and Gary Dauberman, based on the novel by King.  Roy Lee, Dan Lin, Seth Grahame-Smith, David Katzenberg and Barbara Muschietti are the producers, with Richard Brener, Dave Neustadter, Walter Hamada, Marty P. Ewing, Doug Davison and Jon Silk serving as executive producers.
It hits theaters on September 8.