'Kingsman: The Golden Circle' TV Spot: Welcome To Kentucky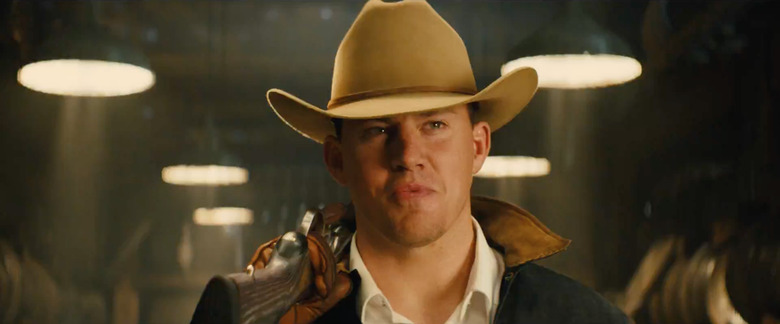 Just a couple weeks ago, the first trailer for Kingsman: The Golden Circle arrived, giving us a peek into the sequel that finds Eggsy (Taron Egerton) dealing with yet another threat to the world. This time, the Kingsman agents find their headquarters completely destroyed, forcing them to team up with another secret agency in the United States known as the Statesman. Their headquarters just so happen to be located in Kentucky, where Eggys has a hard time getting a good martini in new footage that debuted in conjunction with the Kentucky Derby over the weekend.
Watch the Kingsman The Golden Circle TV spot after the jump.
There's a bunch of new footage in this TV spot that wasn't in the first trailer, and that includes giving lines to Channing Tatum and Jeff Bridges as Statesman agents. In addition, Game of Thrones and Narcos star Pedro Pascal, who plays a character named Agent Whiskey, gets a line too, defending the handy Statesman weapon known as a lasso. Anyone want to take bets on whether he becomes the villain or not?
The shots of Pedro Pascal in the first trailer are so quick that I initially thought that we were seeing Colin Firth decked out in more American gear. But then I remembered that the shot we see at the end of that trailer show Colin Firth with an eye patch, which serves as a reminder that he almost died in the first movie. Frankly, I'm excited to see how they explain him being back from the dead.
If you want to see more from Kingsman: The Golden Circle, watch the full trailer right here.
Kingsman: The Secret Service introduced the world to Kingsman – an independent, international intelligence agency operating at the highest level of discretion, whose ultimate goal is to keep the world safe. In Kingsman: The Golden Circle, our heroes face a new challenge. When their headquarters are destroyed and the world is held hostage, their journey leads them to the discovery of an allied spy organization in the US called Statesman, dating back to the day they were both founded. In a new adventure that tests their agents' strength and wits to the limit, these two elite secret organizations band together to defeat a ruthless common enemy, in order to save the world, something that's becoming a bit of a habit for Eggsy.
Kingsman: The Golden Circle arrives this fall on September 22, 2017.