New Han Solo Movie Character Names Revealed: Let's Guess Who They Are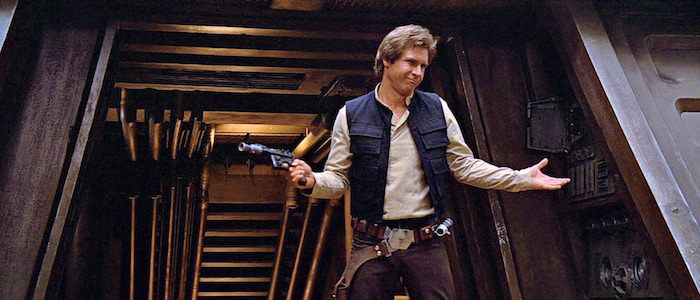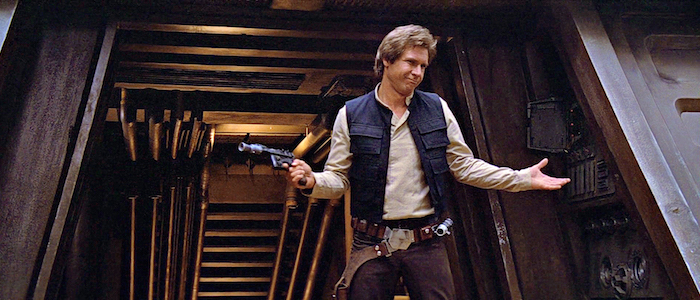 When it comes to upcoming Star Wars movies, we'll take whatever new details we can get. Normally we'd relegate something like this to our recurring Star Wars Bits, but since it's Star Wars Day today, we thought we'd have some fun with some new information about the Han Solo movie that just came to light.
We already know this is a movie about Han Solo (played by Alden Ehrenreich) that will focus on the time in his life from when he was 18 up until he's around 24, and during that time he'll meet Chewbacca and acquire the Millennium Falcon. Plus, his old buddy Lando Calrissian (Donald Glover) will be around and Woody Harrelson is playing a man named Beckett who mentored Han during these important years. Now we have the names of some new characters we'll encounter in the movie, and we're going to try to figure out who or what they are.
The folks over at MakingStarWars have uncovered a few new Han Solo movie character names, a couple of which may be planets or places. First, let's talk about the names that are definitively characters in the Han Solo spin-off.
Rebolt – This will be the character played by Ian Kenny, the bully from Sing Street. The name Rebolt sounds like he could easily be a droid, or at the very least, the kind of character who is good with mechanics in the Star Wars universe. Maybe this will be a sad character who can't help but constantly, literally rebolt things that he's already bolted before, just stuck in a loop of fixing things that are already fixed, and one of the things he's been fixing is a certain ship. Then Han Solo comes along and steals the Millennium Falcon from him since all the bolts have been bolted on perfectly for him already. Though it's a long shot, Rebolt could also be an upgraded, cool and hip version of Frankenstein's monster, something that the Star Wars universe could really use.Moloch – Stunt man Harley Durst will be playing this character, which makes us think it's nothing more than a minor one who might get into some kind of scuffle with Han Solo. However, according to Wikipedia, Moloch just happens to be the name of Canaanite god associated with child sacrifice. We don't know if the Canaanite religion exists in the Star Wars universe, but maybe when Han Solo was a child, Moloch tried to sacrifice him, but he escaped by sneaking himself out of his lair, thus beginning his life as a smuggler.Moloch's Henchman – Tien Hoang is playing this character, and since he's a henchman of Moloch's, there's a chance that the aforementioned character might be more important in the overall film than I suspected. Will Moloch's henchman be just as obsessed with sacrificing children? Maybe since he's not the boss, he's responsible for sacrificing the smaller children.
Now here are some names that could be characters but may also be locations in the Star Wars universe.
Gremm – This name has been mentioned in relation to the above characters, and it could just as easily be a location as another person. My bet is that Gremm is one half of a transformed Mogwai from Gremlins. Gremm is a pet that Moloch keeps to watch over the sacrificial children and stop them from escaping. Since he's literally half of a Gremlin, he's terrifying. Gremm longs to one day reunited with his other half, Lin, who probably died on Jabba the Hutt's sail barge.Emlys Nest – Here's another name that sounds like it could also be a location. We're guessing that Emlys Nest is a store in the Star Wars universe not unlike Anthropologie. They sell kitschy clothes and accessories that cost way too many credits to whoever happens to be passing through. Often times, you'll see other characters dragged there by their significant other even though they've been walking around the same damn galactic shopping complex for five damn hours despite the fact that there's plenty of moisture farming to be done on Saturdays.
We'll find out how accurate our guesses are soon enough. The Han Solo spin-off will hit theaters on May 25, 2018.