'Harry Potter And The Cursed Child' Is Officially Coming To Broadway In 2018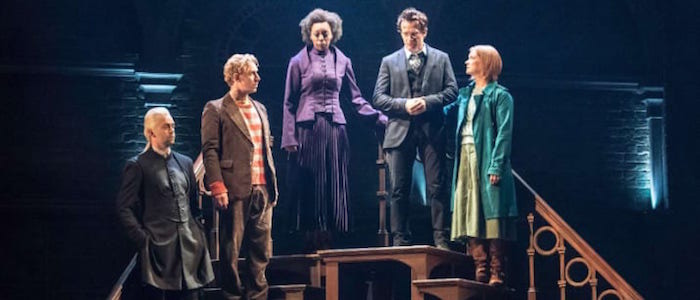 Harry Potter and the Cursed Child has been winning critical raves and packing the Palace Theatre in London since the summer of 2016, encouraging many fans of J.K. Rowling's boy wizard to make a journey to the United Kingdom to experience the stage-bound sequel to the beloved novels. But soon, we'll have a second option: Harry Potter and the Cursed Child is coming to Broadway next year.We originally reported on this months ago, but now everything is signed and official. The Broadway edition of the smash hit West End production will open at the Lyric Theater in New York City on April 22, 2018. No cast has been announced yet and it's not clear if any of the original actors will make the jump across the pond or if the American version will round up an entirely new ensemble. The original show was directed by John Tiffany with a script by Jack Thorne. The play's story was written by Tiffany, Thorne, and Rowling herself.
Set years after the events of the seventh novel in the series, Harry Potter and the Cursed Child follows Harry and his friends as adults, as well as their children, who are now attending the Hogwarts School of Witchcraft and Wizardry. The original incarnation of the show saw the story told in two parts, performed over two days or in one marathon session. Considering the scope and length of the play, the Broadway version will probably follow suit.
Although I haven't seen the show (even if you find yourself in London, getting tickets can be a struggle), I did read the published script and found it fascinating. I even wrote about how it goes out of its way to undo the happy ending of Rowling's book, providing a bittersweet and melancholy experience. While it sometimes reads like a greatest hits collection that dashes through memorable moments from the books (time travel is involved), it's really just using your nostalgia to wind up a dramatic sucker punch. Even though I know the full story, I'm very interested in seeing the whole thing play out as intended: live on stage.
With the April premiere date, it's likely that previews for Harry Potter and the Cursed Child will begin in March. So if you live in the American northeast, keep your eyes open. And if you live elsewhere...well, start saving your pennies and planning a trip to New York City. This will probably usurp Hamilton as the show everyone and their mother wants to see.