LOL: Mark Hamill Pranks 'Star Wars' Fans By Surprising The Hell Out Of Them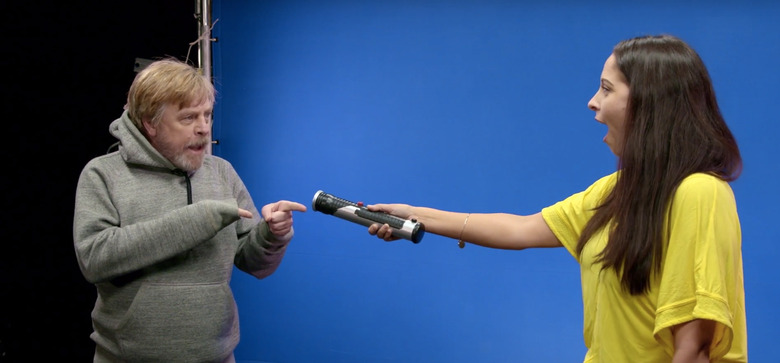 Happy Star Wars Day! May the 4th be with you and all that jazz! In honor of today's makeshift holiday that celebrates the saga from a galaxy far, far away, we have a new video to share as part of Omaze's ongoing Star Wars: Force for Change campaign, this time benefitting Starlight Children's Foundation.
For Star Wars fans, there's nothing more rewarding than meeting the actors who played the heroes (and even the villains) that they grew up loving. So imagine being asked to record some memorable Star Wars lines as part of some montage of fans showing their love for the saga or something silly like that, and then suddenly being interrupted by none other than Luke Skywalker himself. That's exactly what happens in this video where Mark Hamill pranks Star Wars fans by surprising them in some pretty hilarious ways, including appearing as a cheap Darth Vader stand-in and more.
While the situation where Mark Hamill puts on a cheap Darth Vader mask is a great one, easily my favorite part of this video is the one where a woman is reenacting the scene from the end of The Force Awakens. She reaches out to give a Luke Skywalker stand-in his lightsaber, and there's Mark Hamill removing the hood from his hoodie, just like in the movie. It's so good that we'll forgive the fact that the lightsaber being used in that scene is actually the toy version of Qui-Gon Jinn's lightsaber from The Phantom Menace.
Fans can support the Star Wars Omaze campaign by entering right here. If you enter with a donation, you're in the running to win three prizes: a stay at Skywalker Inn with a tour of the archives at Skywalker Ranch and a screening of Star Wars: A New Hope; attending the Star Wars: The Last Jedi premiere and after party; visiting the set of the Han Solo movie, meeting the directors and even the chance at having a small role in the film.
You only have until May 11th to enter, so don't waste your time!