'Murder On The Orient Express' Remake First Look: Meet The Fancy, Star-Studded Suspects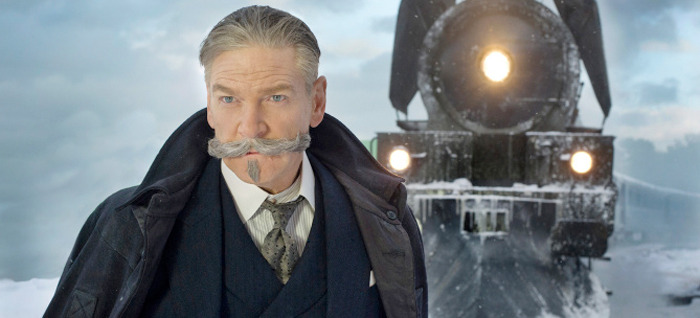 Crime stories have been all the rage lately, ranging from the documentary series Making a Murderer to the podcast Serial and the dramatization of one of the most publicized trials ever in The People vs O.J. Simpson. This fall we'll get another one, but it'll be a classic that millions have either read or seen before.
Murder on the Orient Express is a new adaptation of Agatha Christie's classic novel or a remake of Sidney Lumet's 1974 film adaptation, however you want to look at it. The whodunit won't hit theaters until November, but some first look photos have just arrived showing off the star-studded cast that includes Johnny Depp, Judi Dench, Michelle Pfeiffer, Josh Gad, Daisy Ridley, Penelope Cruz, Olivia Colman, Leslie Odom Jr, Willem Dafoe, Tom Bateman, Derek Jacobi and the film's director, Kenneth Branagh, with one of the most impressive mustaches the big screen as ever seen.
Our own Peter Sciretta saw some footage at CinemaCon and said it looks promising, complete with some stellar costume and production design. Now you can see what he was talking about in the first Murder on the Orient Express remake photos below.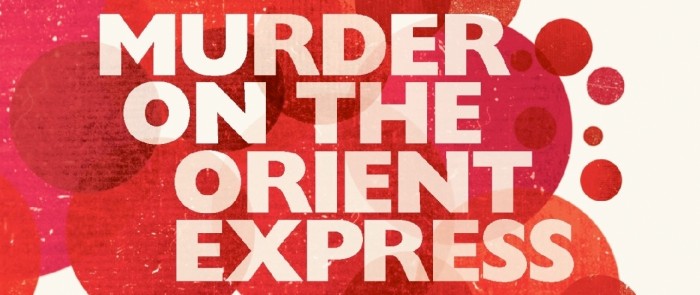 What's the Story?
For those who are unfamiliar with the book that was first published in 1934, Murder on the Orient Express follows the investigation of a fatal stabbing on board the titular train heading from Istanbul to Paris. The train ends up stuck in a snow drift after the murderer has taken place, leaving the killer trapped on the train. It's up to investigator Hercule Poirot to interrogate everybody and figure out who committed the murder. Everyone is a suspect, of course.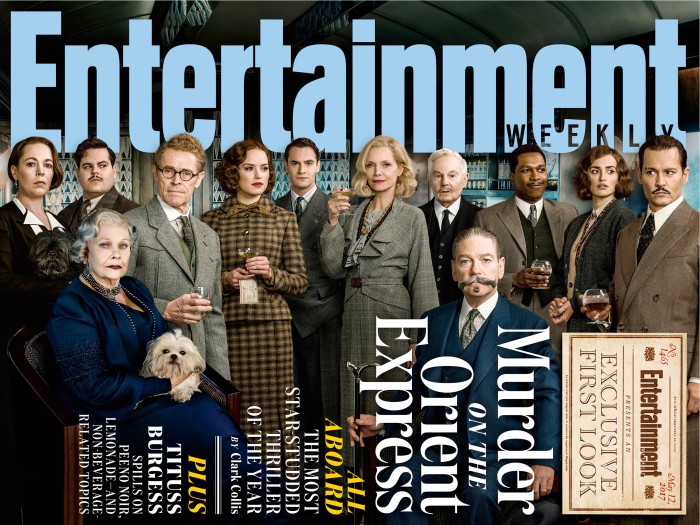 Meet the Cast of Murder on the Orient Express
Below, we break down details on each of the characters played by the above cast members in Entertainment Weekly's disorienting cover photo. However, it should be noted that there might be some differences between the book and the movie as far as characterization is concerned. In fact, I wouldn't be surprised if the character(s) responsible for the murder in the book don't end up being behind the crime in the movie. But that's just speculation on my part. Either way, we've avoided mentioning any potentially spoilery details about the characters which may provide insight into who committed the titular murder in question.
Kenneth Branagh as Hercule Poirot – A retired Belgian police officer, he's quite the famous detective and he's actually a recurring character in Agatha Christie's stories. He's known for being a short man with quite a pronounced mustache, as you can see. He's intelligent, aware of his surroundings and simply a brilliant investigator.Johnny Depp as Ratchett – Poirot describes Ratchett as a wild animal. He's a mobster and an all-around terrible, despicable man.Josh Gad as Hector MacQueen – Ratchett's personal secretary, who doesn't like working for the man very muchPenelope Cruz as Greta Ohlsson – This woman can't stop crying. She's the delicate type, and although she's Swedish in the book, that detail has clearly been changed for this adaptation.Leslie Odom Jr. as Dr. Arbuthnot – This character is actually a colonel in the book, but appears to have been reworked to be a doctor in the movie. The novel portrays him as hard-willed, polite and very "English," but since he's a bit different from the book's character, that might not be the case in the film.Michelle Pfeiffer as Mrs. Hubbard – A talkative older woman who can't stop telling stories about her daughter. She's a constant interruption and diversion on the train.Judi Dench as Princess Dragomiroff – A Russian princess who is generally despicable. She's described with unfavorable words that make her sound like an ugly toad of a woman, but the elegance of Judi Dench still shines through.Olivia Colman as Hildegarde Schmidt – As Princess Dragomiroff's maid, she does whatever her royal highness asks of her. She's rather slow-minded and is described as having an expression of "placid stupidity" in the book.Willem Dafoe as Gerhard Hardman – A big flamboyant American (named Cyrus in the book), he's a detective who provides his services in New York City. He helps Poirot with the case as best he can.Derek Jacobi as Edward Masterman – Masterman is very polite and obedient valet who is a bit haughty.Tom Bateman as Bouc – The director of the the hotel and international travel company Compagnie Wagon Lits aand formerly part of the Belgian police force with Poirot. He's the man who asks Poirot to take the case. In the book, he provides comedic relief, but it's not clear if that trait will be part of the film adaptation.Daisy Ridley as Mary Debenham – A calm, cool and unruffled lady who is the first passenger we meet on the train and is given quite a hard time by Poirot for some reason.
Here are some additional photos from Entertainment Weekly, where you can see a few more stills from the movie:
Murder on the Orient Express arrives in theaters on November 10, 2017.