The Overlook Film Festival: Four Days Of Horror (And Horror Movies) At The Hotel From 'The Shining'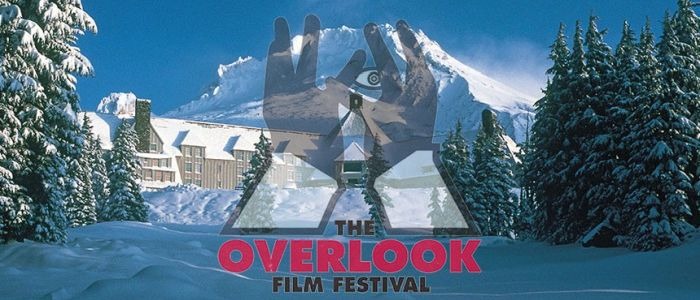 When you host a film festival at the actual location that served as the outside of the Overlook Hotel in Stanley Kubrick's The Shining, you don't need to do a whole lot to provide atmosphere. But the snowstorm sure didn't hurt.
That's what travelers to the inaugural Overlook Film Festival were greeted by last Thursday as they made their way up the treacherous mountain pass to the iconic lodge. The Timberline Hotel is an utterly gorgeous location, a still-functioning ski lodge on top of a snowy mountain about 60 miles outside of Portland. To say it's picturesque would be putting it mildly, but we didn't see much in the way of anything on the way up. Whiteout conditions and a driver using tire chains for the first time led to a harrowing journey up the slippery road. We made it intact, but later on, I heard from more than one person who had fishtailed all over the place, or even ended up in the snow.
It was one helluva way to kick things off a weekend filled with horror movies, haunted houses, and an immersive "game" that thrust me into an actual horror story, that's for sure.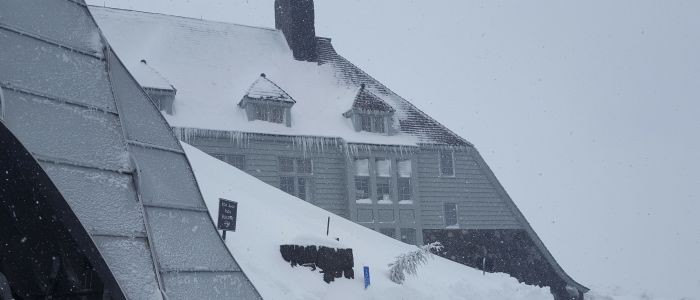 Location, Location, Location
While the Timberline Hotel served as the exteriors for the Overlook, the interiors were shot in the The Stanley Hotel in Colorado, the hotel that inspired Stephen King to write the novel in the first place. But even though there's no hedge maze and the interior isn't recognizable, the Timberline's rustic interior was still appropriately spooky...and it has the requisite ghost stories you'd expect from a hotel this old.
I was staying in room 215, which was next to the infamous room 217 from the book. The film changed the number to 237 because the owners feared that guests wouldn't want to stay there, even though, of course, the opposite is true. Sadly, the only strange noises were those of neighbors talking through the paper-thin walls and walking in the room above me – the hotel provides free earplugs for your stay because it's got nothing in the way of soundproofing.
I got to my room with enough time to take a quick nap (it's a long trip from the other side of the country) and then attend orientation for the Immersive Horror Game that would be going on all weekend. And this is where things start to get a little creepy.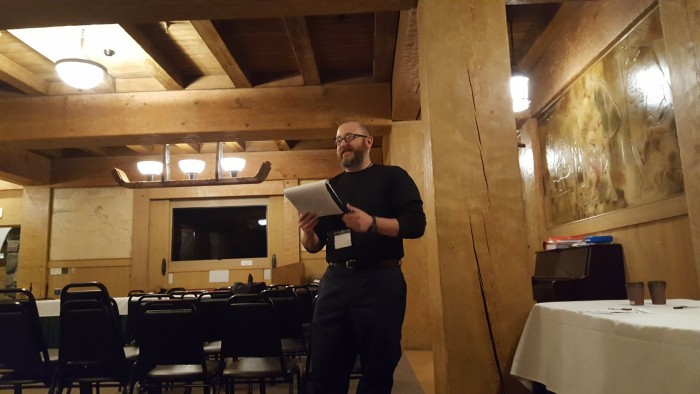 The Game is Afoot
Continuing from the same organizers' Stanley Horror Film Fest years ago, the immersive game is an interactive experience that tries to place you inside a real-life horror movie. In signing up for it, you could choose one of three tiers; Lurker, which would just provide you with story recaps via emails; Player, which I chose, which allowed you to attend game events and receive puzzles and player interactions; and Hunter, which would consume your life, allowing them access to your room, personal belongings, and require your consent for...physical interaction. The Hunters were often seen roaming in a pack, trying to piece together clues, but it's a good thing I chose the lesser tier because I didn't have the time to really dive deep into the story provided, although the people that did were certainly rewarded.
At the orientation we were told of the few rules to follow...and were warned that an "escaped killer" was on the loose. Signs up all over the hotel guided players to inform the security team of any strange interactions and certainly must have confused any guests who were just staying there just to ski.
Later on, we would receive a frantic email from a researched who claimed to have clues to what was going on. It was just the first of a number of events set up for players.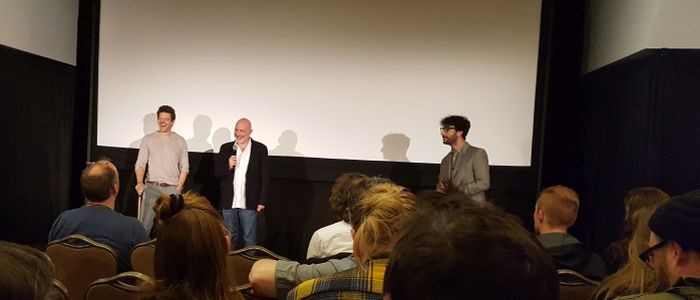 First Blood
But first, it was time to kick off the fest with Akiva Goldsman's Stephanie, a movie about a kid left alone during an apocalypse who has a lot of issues. After the screening, Goldman and producer Jason Blum (the film is a Blumhouse production) came out for a Q&A, and to inform the world that they were working on a remake of Firestarter.
Sadly, this is where we learned that the screening presentation was less than optimal. It's really no fault of the organizers, who did the best they could by propping up great screens and ensuring wonderful image quality, but the Timberline simply isn't equipped for theatrical screenings.
As such, they ran into some major issues in the two impromptu cinemas. One was the chairs, which are the typical kind you find in any hotel meeting room. They were not comfortable and when you're sometimes watching four-to-five movies a day, it wasn't easy on your butt. Plus, it was just a regular room, which meant that sightlines were tricky for the shorter among us, who had to try and look between people's heads to see the screen.
Another issue was the projector itself, which was loud. In both screening rooms, it was located at the back of the room and the fan to keep it cool was so noisy that it drowned out quieter dialogue in the films, and led to a screening of Capture – an interactive movie that's made to work in conjunction with a mobile phone app – not work as intended. The room also became stifling thanks to ventilation issues!
Hot, noisy, uncomfortable...there are not good words to associate with your screenings, but the programming was worth it and it ran seamlessly. I've attended famous festivals that have run for years that weren't run nearly as smoothly as this, and it's to the Overlook team's credit that they nailed it their first time at this location. I have faith in them to see what was done here and only improve it in future years.
The numbers of films being screened was fewer than most fests, but with the caveat that the ratio of solid entries was far greater. I think I speak for most festival attendees that they'd rather a manageable amount of great films than dozens of middling quality. (A full report of the films is incoming, a number of which you're going to want to track down.)
That opening night party involved a satanic burlesque crew, which was as good as it sounds. And it frightened away all the ski bros staying at the lodge. So, bonus.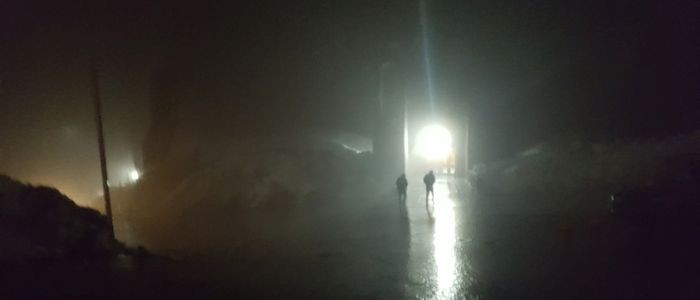 Blackout Conditions
I had intended to spend Friday doing nothing but watching films, but last-minute press invites to two of the festival's interactive experiences wooed me and made me break up my day.
The previous night, I received an email about Blackout, which colored my whole day. If you've never heard about it, it's an haunted house that started in NYC years ago and is infamous for being a solo deal. You have to be at least 21 years old to participate and you have a to sign a waiver, just to ensure you know how extreme it is. I have a number of friends who have tried it out and all seem rattled by the experience, and these are some hardcore horror buffs! So while I sat through Friday's early morning screenings of some great films (Hounds of Love, in particular, is astonishing), every once in a while, I would remember what was coming for me in a few short hours and start to get anxious.
I was right to be. A trip to the bar to kick things off led to an encounter in a hotel room that I'm not about to forget soon. Friends I told about the experience were horrified, and I heard from a couple of people who had deployed the safe word and gotten out of the experience early. I don't blame them – it was a lot, and set me even further on edge for the rest of the night. (A full report on this experience is coming soon.)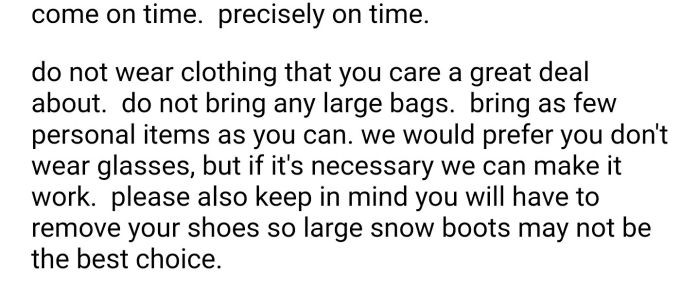 Later on in the night, I attended another interactive experience, The Chalet. Based on The ABC Project's A(partment 8) but customized for the location, it once again saw me meeting a contact near a bar and being directed towards a hotel room. Beyond those similarities, the two experiences could hardly be different, but you could hardly tell my nervous ass that at that point. I was tense and seemingly convinced something else was going to happen to me, and perhaps didn't get as much out of it as I could.
But I did stick with it, something I was surprised to find out that most people didn't. The experience sees you trying to step into someone else's shoes, being blindfolded and having headphones put on your head that repeats a mantra to you. You are led into another room and then told to remove your blindfold whenever you're ready. Once you do, you see a scene that's frankly terrifying, a nightmare of a situation that would cause anyone to pause and take a few deep breaths before figuring out to proceed.
You're allowed to leave at any time, but it surprised me to hear that that more festival goers took this time to get the hell out of there than did at the LA performance, and missed out on what turned out to be a astonishingly intimate and poetic moment.
You should absolutely check it out for yourself but don't do Blackout a few hours before. Trust me.
The party this night featured acrobatic performers and far too few festival attendees. I found out later on that they were all involved in a hunt for the Immersive Horror Game's murderer, who had "killed" a volunteer. The crime scene tape from her death was left up the rest of the weekend.
I ended the night by attending a secret party that was set up with horror board games and video games, because what could be better? It was a bit sad to see that no one was running the show, explaining any of the games or showing anything off, so I grabbed a copy of Werewolf and managed to wrangle a group of about 10 to play. Though many hadn't played before, paranoia soon crept into the group and anyone with a beard was singled out as a potential werewolf. Many were killed, although the villagers lived in the end. A good sign, hopefully.
While we were playing games, the suspected murderer led the security team on a wild chase through the hotel, eventually getting arrested in the parking lot in front of a group of onlookers. Some thought he was innocent and indeed, he didn't survive the night.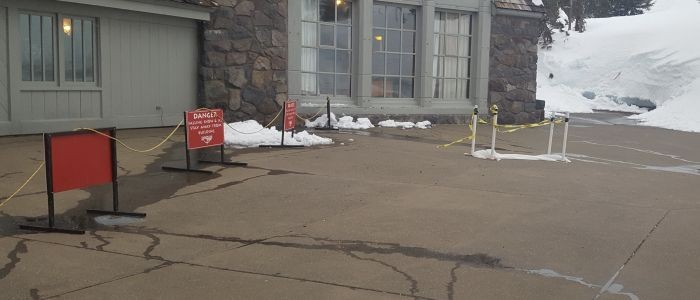 Corman Comes To Breakfast
I decided to eat breakfast in the absurdly priced restaurant and found myself at the brunch line behind legendary genre filmmaker Roger Corman. I swallowed my glee and made myself a waffle.
At the table, I got another surprise when Julie Corman came over to ask me about the book I was reading (Jeff VanderMeer's Annihilation.) So it was a nice way to start the day. I ate in front of them and frowned at all the skiers in the joint who didn't know they were sharing the air with legends.
Fully satiated and annoyed at spending $23 on brunch, I kicked things off with two panels, a fascinating Industry Panel that discussed the challenges of getting funding and distribution for genre films today, and another about the Immersive Games, which humorously showed the ways that each creator went about entertaining their attendees. It was hard not to be weirded out by seeing some of the folks from Blackout answering questions and in the audience, and at the end of the panel I went over to greet my tormentors, who said "Hey Alex" as I approached, knowing everything about me.
The rest of the day I devoted to films, seeing the scariest movie of the fest (Still/Born) the most metal (Joe Lynch's delightful Mayhem) as well as the super secret screening. It was rumored for a long time that it would be Trey Edward Shults' It Comes At Night and we were pleased to find out it was. It played the audience like a fiddle and left me thinking about it for nights to come. You can read my full review of that here.
The closing night party featured a giant ice sculpture based on the dog from the film (seen staring out at the darkness in the movie's poster), lots of booze, and an after-midnight screening of Meatball Machine Kodoku, which was perfect to watch after so much whiskey.
At one point, I stumbled upon a security officer placing a zip tie on a festival attendee and shoving him into a room, as he screamed that they shouldn't be arresting suspects. While I had already stopped following much of the Immersive game (there were so many films and experiences to see!), I had seen a list of potential suspects go up earlier, which included a few friends of mine, so I figured I better go warn them. I had seen a group of Hunters convening near the lobby so I warned them what I had seen, and they took off. I very possibly aided the murderer.
At any other festival, this would have seemed strange. But we were beyond that.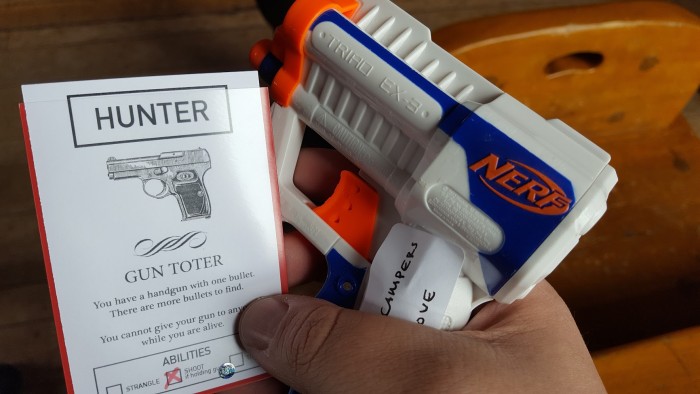 The Perfect Game
I didn't get a chance to see The Killing Ground (it's being distributed by IFC so I knew I'd be able to see it eventually and had to prioritize other films), but I did manage to partake in their Interactive Experience. It's essentially a massive game of Manhunt played through the entire Timberline, where we were divided into two groups and given specific roles. The Campers had to get to a car (grab a toy car hidden somewhere in the Lodge) and get back to base in order to drive off to freedom, bringing as many survivors with us as possible as anyone not at the base would get left behind. One camper had an ability that allowed them to fake their own death, and escape after their killer had left.
The other team would be Hunters, their object was to hunt down and kill all the campers. Most Hunters were able to strangle a camper by just touching their shoulder, but one lucky player was the gun toter, who was handed a nerf gun with a single bullet. I lucked out the very first game.
Items were stashed all over the place, including extra bullets and axes. This led to an intense chase through the Timberline past startled guests, as we all soon ignored the rule to not run when we saw our prey.
The best moment happened in a later game, while I was playing a Camper with the feigning death ability. We found the car fairly quickly, so I snatched it up. We ran off to circle around to the base, only to hear the shout from a couple of hunters behind us, and this is where I did the classic dumb horror movie thing and split off from the group, hoping the Hunters saw them run up the stairs and would pursue them instead. I ducked into a nearby elevator and started jabbing at the close button... only to have a Hunter peek inside and see my trying to squeeze myself into the corner. He looked surprised and then killed me.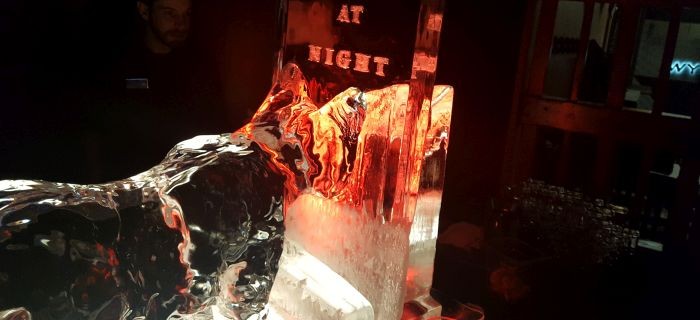 I revived myself 20 seconds later and ran off chuckling... but was then spotted going up a staircase by another Hunter, and killed for real this time. It was a fun time, and even better later on when playing with bigger groups. At one point, we raced through the kitchen, past annoyed staff, in order to get to safety.
The film screenings over the day saw increasingly fewer attendees as everyone took off to go home, and soon it was my own time. I found out later that the security guard who had introduced us to the game the first night was involved with satanic rituals, and yet another corpse was found, the fifth of the fest so far. The greatest thing is that the immersive game has been going for years (initially through the dearly departed Stanley Film Festival) and will continue over emails and various events for years to come, with players now more immersed in the world than ever.
It's hard to overstate how much fun of an experience the Overlook Film Festival was. It's easily the most relaxed and stress-free festival I've been to, one where everyone just seemed genuinely happy to be together with a group of cool people and being able to choose from a surprising variety of experiences. I was seeing movies and attending experiences nearly non-stop all weekend and still I missed out on some things I would have loved to attend, such as Clay McLeod Chapman's The Pumpkin Pie Show, the VR game Mule from the creators of Catatonic, and a live recording of Glass Eye Pix' Tales From Beyond The Pale. But hey, there's always next year. I hope the Overlook comes back forever, and ever, and ever.