Could Josh Gad Play The Penguin In 'The Batman'?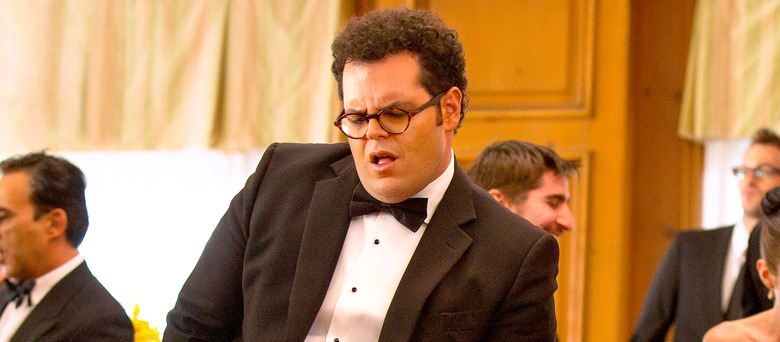 Ever since news of a standalone Batman movie with Ben Affleck in the lead and behind the camera was announced, a close eye has been paid to every facet of development. Every time Ben Affleck had an interview, he was asked about the state of the project, and depending on his mood, the project either sounded like it was on sure footing, or it was on shaky ground. Then the Batman v Superman star removed himself from the director's chair, and fans got worried.
Since then, Dawn of the Planet of the Apes and Cloverfield director Matt Reeves has stepped up to take his place, and the script is getting a complete overhaul. In fact, so many changes were happening behind the scenes that Joe Manganiello wasn't even sure that he would end up playing Deathstroke in the movie as he was originally hired to do. However, now we have an inkling of one new cast member and character who may be involved with The Batman.
Evidence has been presented that makes us think Josh Gad may be playing The Penguin in the first solo outing for the grizzled Batman of the DC Extended Universe. 
The potential of Josh Gad playing The Penguin came to light after the actor tweeted this without comment:
— Josh Gad (@joshgad) May 2, 2017
Now that's clearly not hard evidence (noticed by Uproxx), but there has been other activity on Twitter that supports this theory. Josh Gad was recently followed by DC Films executives Jon Berg and Geoff Johns on the social media service, which is exactly what happened before Joe Manganiello and ex-The Flash director Rick Famuyiwa became involved in projects within the DC Extended Universe. That's a fairly good indication that something could be in the works.
Josh Gad hasn't done anything like The Batman before, so this would be new territory for him. He's mostly been in comedies, and even when he appears in more dramatic films like Jobs or Love & Other Drugs, he's usually still a funny character. But sometimes, some surprising work comes from actors known for certain kinds of performances, so maybe this could be a big breakthrough for him. Maybe his upcoming turn in the remake of Murder on the Orient Express has turned some heads.
Then again, maybe Josh Gad won't be playing The Penguin in the DC Extended Universe at all. Perhaps Josh Gad is being lined up to voice the villain in a sequel to The LEGO Batman Movie. Even though there was a plethora of bad guys from Batman's rogues gallery who appears in the first animated spin-off of The LEGO Movie, The Penguin was one of the few who didn't have a voice attached to him. That leaves a vacancy for Josh Gad to play the character.
Another possibility is that Josh Gad could be recruited to play The Penguin in one of the many DC Comics animated films that are released each year. There are a wide variety of animated projects on DC's comic books being made nowadays, and Josh Gad could make for a decent voice for The Penguin in any of those movies as well.
Maybe we'll hear something soon about Josh Gad playing The Penguin in some form or another, but until then, just regard this as nothing more than speculation. In the meantime, do you think Josh Gad would make a good Penguin?