Theme Park Bits: Pandora Uniforms, Disneyland Wi-Fi, And Next-Generation Projection Tech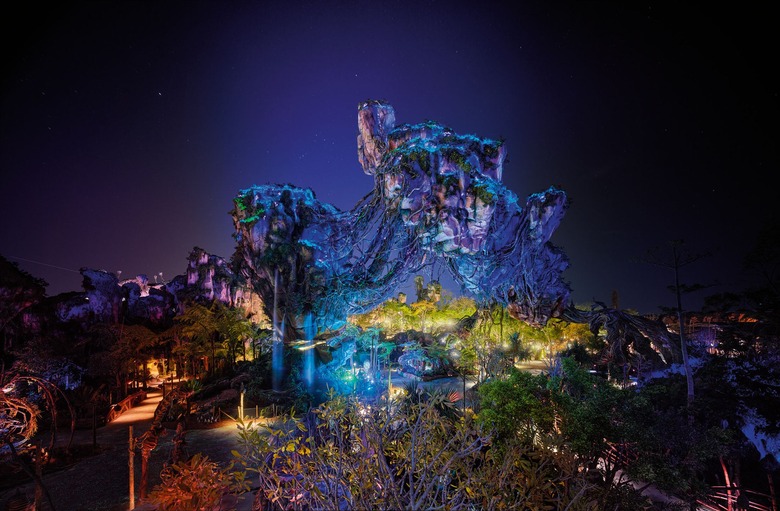 In this edition of Theme Park Bits:
The uniforms of Pandora: The World of Avatar are revealed.
The "roles" that Pandora cast members play in the park.
A peek at the Avatar-themed merchandise you'll be able to buy at the park.
Disney is researching how to projection map a human face.
Disneyland is getting with the times and offering Wi-Fi in their parks.
There's a new robot named iCan wandering around Tomorrowland.
With Walt Disney World's Pandora: The World of Avatar on the verge of opening, more details about the theme park land are being revealed. And as you'd expect, the theming extends to the people who actually work in the land, with the 800 cast members taking on a different "role" in addition to their regular duties as shopkeepers, food staff, ride engineers, and so on. First, here's a look at some of the new cast member uniforms courtesy of journalist Paul Brinkmann:
Here's some costumes for Disney's Pandora – The World of #Avatar pic.twitter.com/WiytmXUyeb

— Paul Brinkmann (@PaulBrinkmann) April 24, 2017
Training for cast members at #WDW Pandora is more immersive– culture, food, flora, fauna: "They live with the Na'vi" pic.twitter.com/Bxp2elBSI8

— Paul Brinkmann (@PaulBrinkmann) April 24, 2017
In his actual article, Brinkmann goes into detail about the three groups of employees living and working on Pandora, each of whom serve a different thematic purpose (in addition to, you know, selling you stuff and keeping the attractions running):
The first cast member group will assume the role of employees for Alpha Centauri Expeditions (ACE), which is a tourism company from Earth and the exclusive provider for trips to Pandora. They will work at Wind Traders store, the Satu'li Canteen cafeteria and on the Na'vi River Journey ride.
The second group will be the Pandora Conservation Initiative (PCI), which will have a special role getting you to ride a banshee at the Flight of Passage ride, and will also work at Wind Traders.
The third and final group is something Florida residents know very well — people who came to visit and ended up staying. Called the ex-pats (for expatriates), these Pandora cast members will act like Earth tourists who loved Pandora so much they decided to move there permanently. They will work in two areas: Pongu Pongu, which means "Party Party" in Na'vi, and the face painters.
Not present will be any military forces, who were vanquished in the first movie. Plus, the land is "set" a generation after the events of the final Avatar movie (which is still years away), long after conflict has ceased.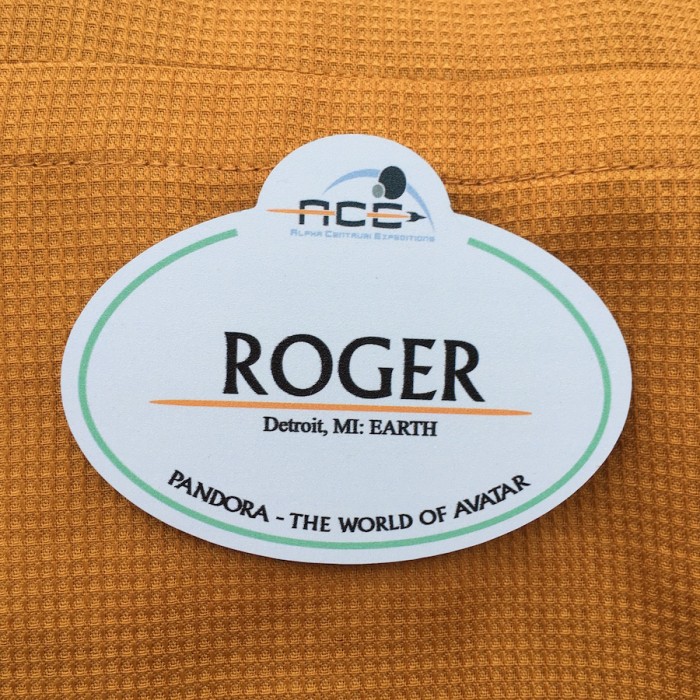 And here's a close-up of a cast member name tag, which is a cheeky update on the version seen elsewhere in Disney parks. While there's still the employee's name and their hometown, it is now specified that they hail from Earth. And there's no mention of Disney, either. According to this tag, they work for Alpha Centauri Expeditions (ACE). And yes, they will be prepared to truly inhabit this world in their interactions with you:
In addition to training for these new roles, cast members will be immersed in the Na'vi culture, by learning about their language, environment and way of life. One example is the way cast members will be able to welcome guests to this awe-inspiring land with the common Na'vi word for hello – Kaltxi (kahl-T'IH). In fact, each cast member on Pandora has received a handbook with some common Na'vi phrases, such as Oel ngati kameie [well NGAH-tee KAH-mey-yeh]. In the native language of Pandora, this means, "I see you."
If you're looking at those cast member outfits and wondering what you'll get to wear after a jaunt to Pandora, the Disney parks blog has got you covered. In the gallery above, you can check out some of the merch that will be available for purchase in the land's gift shops. While some of it looks pretty standard, I love how much of it looks like "in-universe" souvenirs, like patches from the fictional company arranging trips to this alien world and art created by citizens of the moon itself.
Disney theme parks already use projection mapping technology to transform buildings during their nighttime entertainment, but now, it looks like they're about to get even more ambitious with this tech. As you can see in the video above, they're currently testing out projection mapping using living, moving humans, transforming them into characters as they perform. While it looks rough now, it's easy to imagine a future where live performers can appear as all kinds of fantastical creatures and characters in live action shows.
Here we go, finally wifi at the Disneyland Resort Parks pic.twitter.com/CXnnoGrReG

— Arvid Bux (@Arvid) April 24, 2017
Welcome to 2017, where even the Disneyland parks have Wi-Fi! But seriously, this is great news for people looking for a way to help get them through those lengthy waits in line, especially if talking to your friends and family isn't an option.
A new robot has arrived at Tomorrowland at the Magic Kingdom in Walt Disney World. His name is iCan and he can be seen in the video above, rolling around the area, interacting with guests and keeping the crowds entertained. This design isn't unique (this robot design is available elsewhere and for other functions), but he fits in well with the area's aesthetic and seems like a great distraction for when you need a breather between rides.
Speaking of new things coming to Tomorrowland, the Disneyland version of the land will soon introduce the Skyline Lounge, which will offer guests a chance to eat, drink, and watch the evening fireworks from their own private space. Of course, this being Disney, it will cost you $45 per person (in addition to your regular admission cost) to take advantage of this.
And finally, video of Johnny Depp's surprise appearance at Disneyland, where he appeared in-character inside the Pirates of the Caribbean ride as Captain Jack Sparrow, has been released online.