'The Big Sick' Trailer: This Could Be The Best Comedy Of The Summer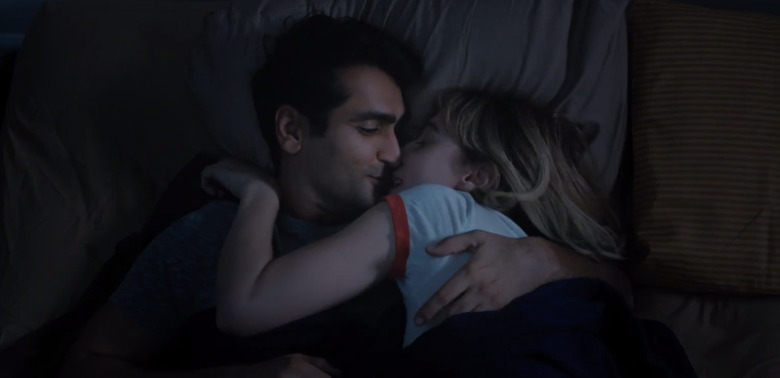 You might think it's a little bold to proclaim that The Big Sick will be the best comedy of the summer. And while reactions from trailers can tend to be hyperbolic in the moment, in this case, we've actually already seen the movie in question.
The Big Sick debuted at the 2017 Sundance Film Festival, and when all was said and done, it was the /Film crew's favorite movie that premiered there. Now the first trailer for the movie written by comedian Kumail Nanjiani and his real life wife Emily V. Gordon has arrived, giving us a tease of the romantic comedy which adapts the writing duo's surprisingly true love story. Trust me when I say the movie is hilarious, touching and absolutely worth seeking out this summer.
Watch The Big Sick trailer below.
As noted in the trailer, I found The Big Sick to be "the most authentic romantic comedy in years," and I can't wait to see it again. In my full review from Sundance, I also wrote:
"What unfolds is a sincere romantic comedy that will give you hearty laughs over and over again and then squeezes tears from your eyes moments later. Director Michael Showalter has played with the romantic comedy formula before as the director of The Baxter and the co-writer of They Came Together, but this film is on another level. He balances side-splitting comedy and moving drama so effortlessly, with neither ever feeling phony, and that's not easy. Sure, the incredible cast and masterful script help, but channeling that into every single scene requires a skillful director who knows their way around honest storytelling."
Kumail Nanjiani plays a version of himself in The Big Sick while Zoe Kazan (Ruby Sparks, What If) plays Emily V. Gordon. The cast is rounded out by Holly Hunter and Ray Romano as Emily's parents, not to mention comedians Kurt Braunohler, Bo Burnham and Aidy Bryant as Kumail's fellow stand-up comrades. The result is a comedy that feels like a Judd Apatow movie, so it should come as no surprise that he ended up producing the movie from Showalter (director of Hello, My Name is Doris and writer of Wet Hot American Summer).
When I say this could be the best comedy of the summer, that's because it's going to take a lot for comedies like Snatched, Baywatch, Rough Night, The House and Girls' Trip to measure up to the magnificence of this lovely film. So make sure you find it as soon as you can when it gets a limited release starting in June before expanding the next month.
If you'd like to find out more about The Big Sick, be sure to read our interview with Kumail Nanjiani and Emily V. Gordon from the film's showcase at SXSW back in March.
Based on the real-life courtship between Kumail Nanjiani and Emily V. Gordon, The Big Sick tells the story of Pakistan-born aspiring comedian Kumail (Kumail Nanjiani), who connects with grad student Emily (Zoe Kazan) after one of his standup sets. However, what they thought would be just a one-night stand blossoms into the real thing, which complicates the life that is expected of Kumail by his traditional Muslim parents. When Emily is beset with a mystery illness, it forces Kumail to navigate the medical crisis with her parents, Beth and Terry (Holly Hunter and Ray Romano) who he's never met, while dealing with the emotional tug-of-war between his family and his heart.
The Big Sick hits limited theaters on June 23 and expands wide on July 14.