Watch: Chris Pratt Solves A Rubik's Cube During A 'Guardians Of The Galaxy Vol. 2' Interview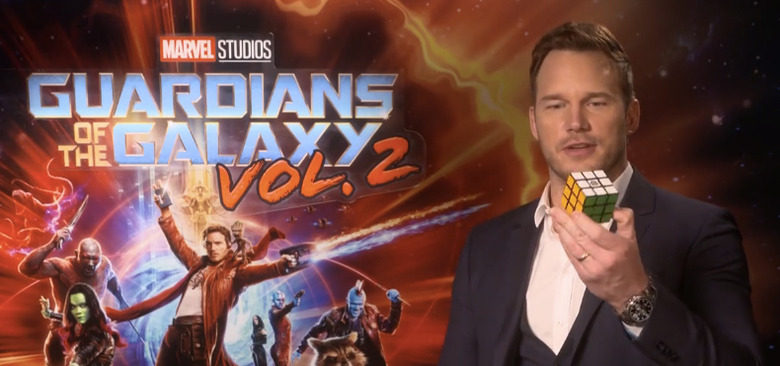 Plenty of people already love Chris Pratt because he's charming and perfectly plays the sarcastic, occasionally reckless cosmic superhero known as Star-Lord. So it's just icing on the cake to find out that in addition to being a solid actor and an all around great guy, Chris Pratt can also do a little bit of a parlor trick while fulfilling his promotional duties of participating in publicity interviews for Guardians of the Galaxy Vol. 2.
While sitting down for one of his many chats about the Marvel Studios sequel and other various topics, Chris Pratt was given a Rubik's Cube to solve while answering all the questions the interviewer had to throw at him. Not only is he fully present in answering every single one of the questions asked, but he solves the Rubik's Cube in just over 3 minutes.
Watch as Chris Pratt solves a Rubik's cube during an interview below.
It goes without saying that it's awesome to see someone like Chris Pratt to do this while on the publicity tour for Guardians of the Galaxy Vol. 2. However, it's not nearly as difficult as many people will initially think it is. No, I'm not trying to take anything away from Chris Pratt here, but there's a way to solve the Rubik's Cube no matter what condition it's in by just following the right steps and a certain pattern of moves. Of course, that doesn't mean it's necessarily easy to do while participating in an interview, but it does make it easier to understand how he so easily solve the cube without thinking much and still answer questions at the same time.
Full disclosure: this isn't the first time I've seen this done in the entertainment world. There's a stand-up comedian who I know from Michigan who sometimes opens his show by simultaneously doing one of his quick bits and solving a Rubik's Cube. It always impresses the crowd while getting laughs, so it's not hard to see why it's so cool when Chris Pratt does it during this PopBuzz interview.
Guardians of the Galaxy Vol. 2 hits theaters this week on May 5.