'The Dark Tower' Trailer: Matthew McConaughey Fled Across The Desert And Idris Elba Followed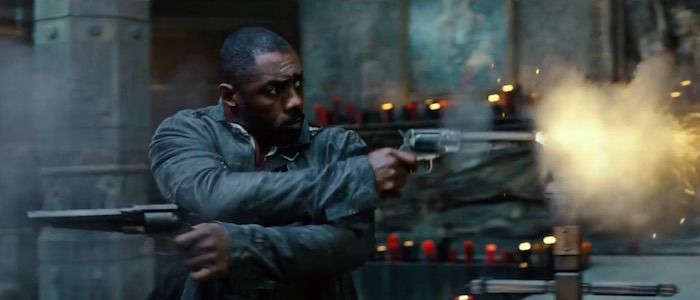 There really is a movie version of Stephen King's The Dark Tower coming out and a trailer has arrived to prove it! After a series of delays made the the internet question whether or not this movie is an actual thing Sony in which has has invested millions of dollars or just an elaborate prank, real, actual, outside-of-CinemaCon footage has arrived to confirm the former. The Dark Tower is here and it looks...well, how about we watch the trailer and find out?
All jokes aside, it's been a bit of a rough road for fans of The Dark Tower, which was originally going to be an early 2017 release before being pushed to August. Even with King's personal endorsement, this movie feels like it could go in either direction. The source material is so complex, so weird, and so exciting that it's easy to imagine it completely collapsing while making the jump to the big screen. But if the movie is as imaginative, creepy, and genre-busting as the books, this could be something really special.
For those of you who know nothing about the novels, here's the basic gist. Idris Elba plays Roland Deschain, the last of the Gunslingers, a pistol-packing warrior who pursues Walter (Matthew McConaughey), also known as "the man in black," across dimensions to avenge the destruction of his world. Along the way, Roland collects allies (including the young Jake, played by Tom Taylor) and battles mutants, monsters, robots, warlocks, demons, and just about everything else you can yank out of the science fiction, fantasy, and horror genres.
Originally set to be directed by Ron Howard (who is still on board as a producer), The Dark Tower is the latest film from Nikolaj Arcel, who previously helmed A Royal Affair. If all goes according to plan, this first movie will launch a franchise that spans several mediums – a prequel television series following the young Roland also in the works. Combine this with a strange approach that allows the film to act as an adaptation of the books and a sequel to them (the spoilerly explanation can be found here) and you have a movie with a lot resting on its shoulders. If done right, this could be the next big genre franchise.
The Dark Tower arrives in theaters on August 4, 2017.