New 'Wonder Woman' Photos And TV Spot Trace Diana's Journey From Themyscira To London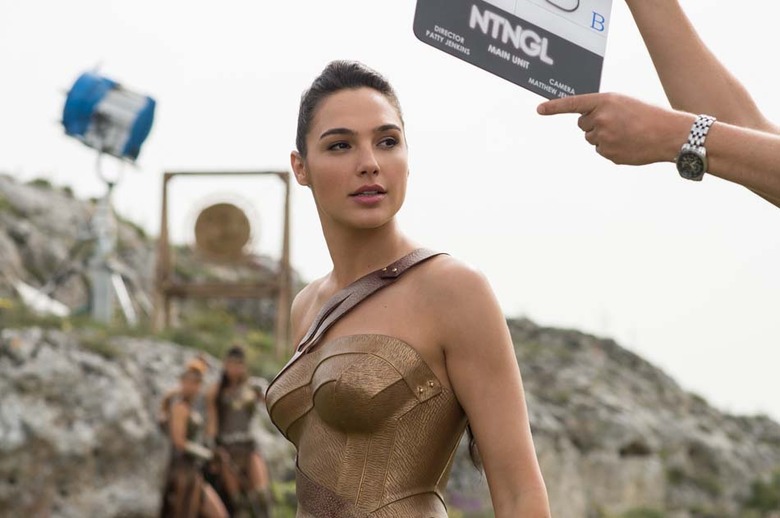 After the dearth of marketing materials for Wonder Woman, we have suddenly been blessed with a surge of TV spots, stills and advertising for the upcoming movie about the female superhero and goddess.
Warner Bros. and DC Entertainment released six never-before-seen stills, both in front of and behind the camera, of Gal Gadot's Diana on Themyscira, Chris Pine's dashing Steve Trevor, a stern-looking Sameer (Saïd Taghmaoui) and a few behind-the-scenes photos with director Patty Jenkins.
Check out the new Wonder Woman photos and TV spot below.
Raised on the isolated island of Themyscira, Diana lives a fairly sheltered life with the Amazonians, until an American pilot crash-lands on her island. Alarmed about the stories he tells of a world at war, Diana leaves her island and heads to London with Steve to do her duty to "protect the world."
The new photos flesh out her journey from Themyscira to London and Germany, with stills of Gadot shooting her sheltered Amazonian life on the beaches of Italy, Diana confusedly browsing for human clothes in London with Lucy Davis' Etta Candy, and another shot of her in the blue gown that we've seen in before trailers. Meanwhile, Pine's Trevor takes aim at enemies in another photo, while Sameer looks concerned in the last still.
Like in these new stills, the recent TV spot for Wonder Woman seems to be emphasizing Steve's equal importance to Diana in the film, depicting more action shots of him and expanding his role as the audience surrogate through which we're introduced to the "goddess" that is Diana.
The new photos and TV spots are a welcome relief from the lack of marketing that Warner Bros. was offering up until people noticed that it was a month away from Wonder Woman's release and we'd only seen two trailers.
Immediately, Warner Bros. stepped up to the task, releasing TV spots hinting at the movie's Big Bad, Ares, the god of war, and giving us even more footage of the DC Extended Universe's first female superhero movie — and the modern superhero era's first solo female superhero movie, period. If you want to know more about Wonder Woman, you could also check out our reaction to 16 minutes of footage, as well as details on the film's first act.
Following Wonder Woman's introduction in Batman v. Superman: Dawn of Justice, she will be appearing in the upcoming Justice League movie on November 17, 2017. Wonder Woman will be the fourth movie in the DC Extended Universe, which kicked off in 2013 with Man of Steel.
Wonder Woman opens in theaters on June 2, 2017.