How Would 'Furious 7' Have Ended If Paul Walker Hadn't Died During Production?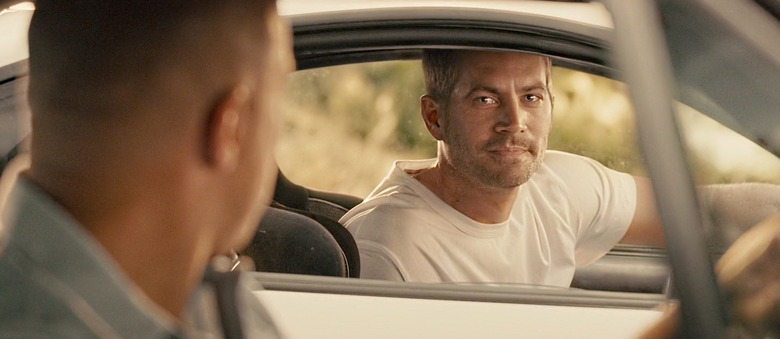 The cast and crew of Furious 7 were thrown a pretty serious curveball when Paul Walker died in a car wreck while the sequel was still in production. Shooting shut down for awhile to allow everyone time to grieve and process this tragedy, but also to allow director James Wan and writer Chris Morgan figure out how they were going to salvage the movie without one of the main actors around to finish many pivotal scenes that had still yet to be completed.
In the end, Paul Walker's character Brian O'Connor was given a touching send-off by his on-screen brother Vin Diesel. But how would the movie have ended if Paul Walker hadn't died and didn't need to be written out of the future sequels? Chris Morgan recently took the time to explain how the original Furious 7 ending would have been different from what we saw in theaters.
In an interview with Collider, Chris Morgan talked about the original ending of the movie:
"Well, the original ending, if I remember correctly, was our guys end up solving the problem and then kind of becoming—again, going more outlaw, it was sort of a happier ending that kind of ends with the insinuation that they were gonna go off onto this heist or this job."
He goes on to explain the the core issue of Brian trying to settle into the life of a family man who doesn't have to drive fast cars and dodge bullets was wearing on him a bit. As we know now, little story nugget gave Chris Morgan a good reason to write Brian out of the franchise entirely when Paul Walker passed away. But if the actor hadn't died, the balance was just something that Brian would have dealt with at different times throughout the rest of the sequels. Morgan explained:
In regards to the story, the story actually kind of was the same. The only difference is that whereas we let Brian and Mia and their family kind of go off to just be a family and drop the action-y elements of their lives and stop risking everything when family is so important to them, otherwise we would've just kind of continued with Brian learning and adjusting his character a little bit."
It's sad that it took a tragedy like Paul Walker dying for the franchise to take such a sharp turn, but in a way, having Brian leave the crew brought a new layer of significance and emotion to the story. It forced the crew to confront responsibility for themselves and their family, to think about whether the life they've chosen is the one they want rather than just having them head off and be outlaws without little to no consequences.
Of course, trouble always ends up finding the crew anyway, so even if they chose to lay low, they likely wouldn't have kept still for very long. The Fate of the Furious is evidence of that since Dom and Letty had their honeymoon interrupted by Cipher (Charlize Theron). Now we'll have to wait and see how the franchise continues with Fast and Furious 9, slated to arrive on April 19, 2019.