Pixar's Short Film 'Lou' Is An Impressive & Touching Achievement In Animation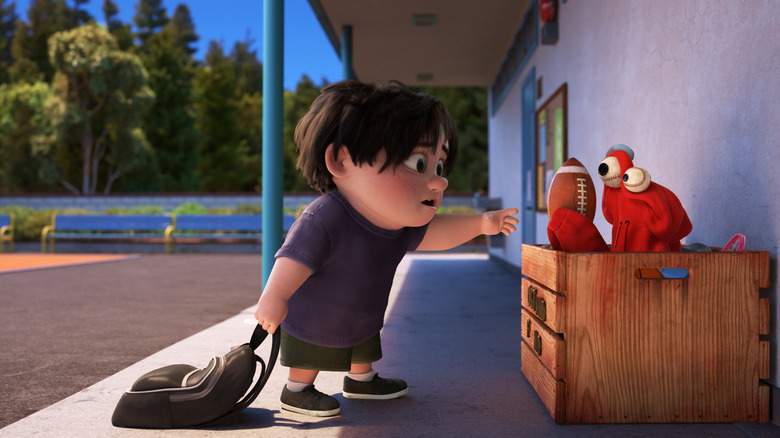 During our visit to Pixar Animation's campus in Emeryville, California to check out a bunch of footage from Cars 3 (read our reaction over here), the animation studio also took the time to show us their new short film that will be attached to the sequel when it hits theaters this summer.
In case you missed the first look Lou we featured previously, the story focuses on a monster who lives in a lost and found box at an elementary school. What's cool about Lou, is that he's actually made up of all the things found in that lost and found box. There's a red hoodie, baseballs, buttons, a slinky, a handheld video game, a shoe and plenty of other misplaced items from the kids at the school.
After all the kids are done having recess on the school playground, Lou takes it upon himself to scour the playground for all the items that get left behind, and he secretly gives them back to the kids to enjoy over and over again. But one day, he notices a bully who has been stealing stuff from his classmates, and what happens next is hilarious and moving.
Find out more about the Pixar short film Lou below.
We won't give everything away that happens in Lou, but the lost and found monster decides to teach this bully a lesson in compassion. Before that happens, a chase ensues between Lou and the bully that is wholly entertaining and funny, and it all leads to a moving conclusion that will really touch your heart.
What makes Lou so mesmerizing is the titular monster himself. While most of the time, Lou's face and eyes are primarily made up of a red hoodie, a couple of baseballs and two buttons (making him look like a goofy, red Cookie Monster), during the chase on the plaground with the bully, the items that he's composed of constantly scatter and shift, giving him wildly different forms that make for some truly hilarious moments in animation.
In addition to the wacky, impressive design for Lou, it's the potent emotional ending that makes this Pixar short a memorable directorial debut for Dave Mullins, and there's no doubt in my mind that he will one day be at the helm of an incredible feature film for Pixar Animation.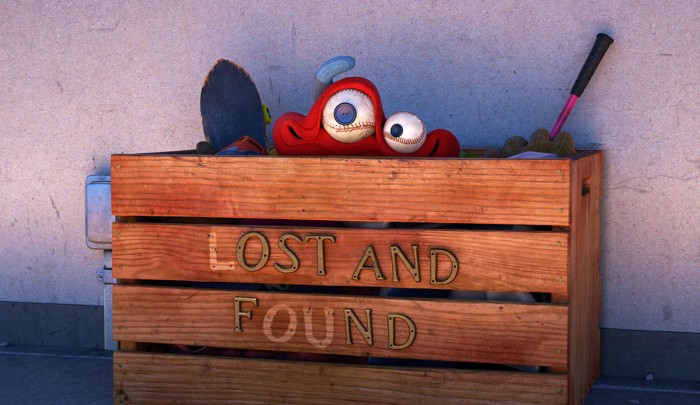 The Inspiration for Lou
Following the screening, Pixar brought Dave Mullins out to talk a bit about the creation of Lou. The filmmaker explained that he's always been inspired by a set of guidelines that John Lasseter once explained were the ingredients that a Pixar movie should have. They include heart, meaning there should be a main character who is flawed and experiences personal growth; entertainment, meaning a story that is unpredictable and funny; a unique setting that transports viewers to a place that is exciting and new; and the film must call for being animated and use the full potential of the medium.
Dave Mullins has been working as an animator at Pixar since Monsters Inc. in 2001. He started pitching ideas for short films here and there in 2005 that include one about his relatives as told through a family of beavers, some Cars Toons ideas, and a few self-acknowledged bad ideas that didn't go anywhere. But Mullins found inspiration for the movie he would eventually make when he really dug into his childhood.
Mullins was a kid who moved around a lot, almost every year he was the new kid at school. It made him feel invisible, and it gave him this idea for some kind of character who felt invisible and desired to be accepted by other kids. That's when he came up with the concept of a character who looked like a pile of stolen toys, but was actually a little kid underneath. That idea didn't entirely pan out the same way for the film, but it was the right inspiration he needed to being the journey towards creating the Lou you'll see in theaters.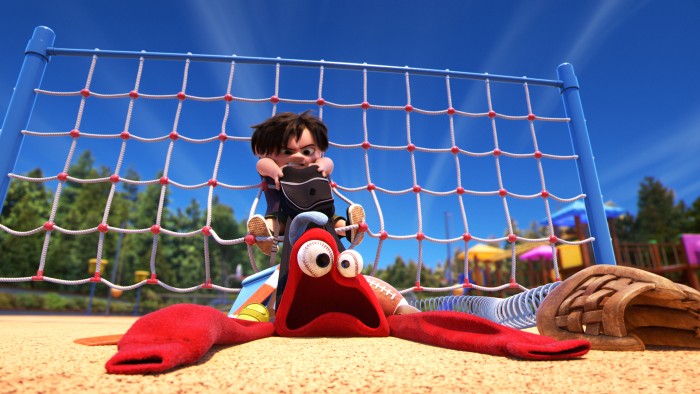 An Impressive Achievement in Animation
One thing that is always impressive about Pixar's movies is how much they change throughout production. Even as animators are already working on scenes for the film, those scenes could end up being cut or changed drastically. Story is king at Pixar, and that means making sure the story can always be improved, no matter what stage of production the movie is in. Lou is an excellent example of how skilled Pixar is at perfecting their stories.
Furthermore, seeing how the design of Lou himself progressed is another impressive element of Pixar's work in animation. When the pitch was made to Pixar, complete with a real-life maquette of Lou in the room, John Lasseter said, "This character looks like a pain in the ass to do. Let's make it!"
Indeed, the animation tests and footage we saw revealed that this monster was a complicated piece of animation. Pixar had to figure out how to make a pile of individual items move as a single entity, and give those elements a place in the creature's body that still made him look like the same monster we met in the beginning of the movie.The result is a wacky, delightful character who can only exist in animation, one who brings heart to the story, making it a perfect Pixar short film.