'The Lion King' Casts Billy Eichner And Seth Rogen As Timon And Pumbaa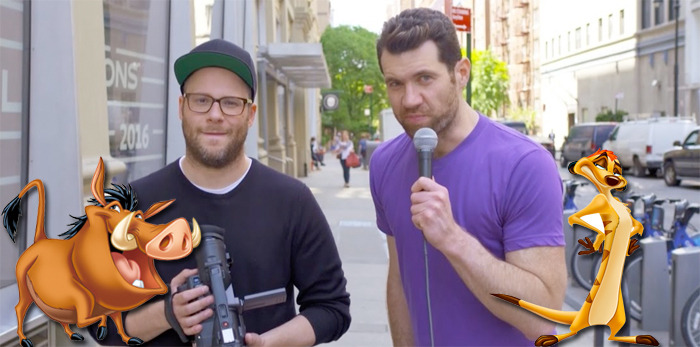 Today, Walt Disney Pictures set release dates for a bunch of their movies coming to theaters over the next couple years, and that included their live-action remake of the modern animated classic The Lion King. Director Jon Favreau is tackling the project after remaking The Jungle Book for Disney last year with Donald Glover
 and James Earl Jones reprising the role of his father Mufasa, with Beyonce 
. Now two of the most important characters in the movie have been cast as well.
Undoubtedly the most entertaining characters in The Lion King are the meerkat and warthog duo known as Timon and Pumbaa. The characters were voiced by Nathan Lane and Ernie Sabella respectively in the 1994 animated musical, but in the live-action remake, they'll be voiced by Billy on the Street host Billy Eichner and blockbuster comedy star Seth Rogen.
Find out more about The Lion King remake cast below.
The casting of Timon and Pumbaa (reported by
) is arguably more important than that of Simba. The two characters were easily the most memorable from The Lion King, and they're also responsible for the most popular and infectious musical number, "Hakuna Matata." The song is an upbeat, lively and fun tune that means "no worries" when translated from Swahili to English. If you've somehow forgotten how that goes or you've been living under a rock, here it is:
There has been no confirmation as to whether or not this remake of The Lion King will be a straight-up musical like the animated original, but since the Beauty and the Beast remake went that route, it's not out of the realm of possibility, especially with musical talents like Donald Glover (who raps as Childish Gambino) and Beyonce taking the two lion leads. Then again, the remake of Cinderella wasn't a musical, and The Jungle Book only utilized two songs from the original movie. Still, remaking The Lion King and excluding "Hakuna Matata" would be a mistake, even if it's one of only a few songs in the movie.
We know that Billy Eichner can carry a tune pretty well, even if it's not as good as Nathan Lane, but Seth Rogen doesn't have the same caliber of voice as Ernie Sabella. That could be an indication as to whether this is actually a musical, but it wouldn't be hard to touch up Rogen's voice or make his contributions to the song less of a vocal stretch. More importantly, they both have the right persona and presence to nail each character. I can just hear Timon's lines coming from Billy Eichner already, and it brings a smile to my face.
Now the next question is, who will Jon Favreau get to play Scar? Christoph Waltz seems like the most obvious choice, but that's almost too easy. Maybe Mads Mikkelsen is up for the task?