Chris Pratt Thinks 'Suicide Squad' Tried To Introduce Too Many Characters, Too Soon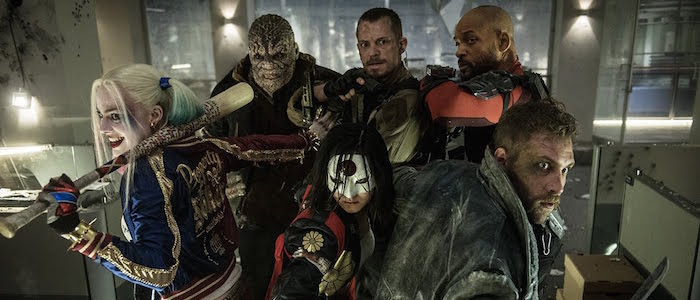 Though there are plenty of passionate fans who absolutely love the movies release in the DC Extended Universe so far, there are also plenty of viewers who have been disappointed with the recent offerings of Batman v Superman: Dawn of Justice and Suicide Squad, even fans who liked what director Zack Snyder did with Man of Steel.
One of the more rampant pieces of criticism is that Warner Bros. and DC are trying to bite off more than they can chew with stories that are convoluted and all over the place. Part of that problem comes from these movies trying to introduce too many characters far too quickly and expecting viewers to care about them just as fast. At least that's what Guardians of the Galaxy star Chris Pratt thinks one of the problems was with Suicide Squad
In an interview with io9, the Guardians of the Galaxy leading man was asked about his opinion on the DC Extended Universe movies so far. Though he could have fed the fire that is the ridiculous DC and Marvel rivalry, Pratt actually praised the DC movies before offering one issue he had with Suicide Squad:
"I really like all the Warner Bros. [DC films], I think they're really cool and I'm not a real tough critic on those movies. But one of the flaws might have been they were introducing too many characters in 'Suicide Squad.' They spent 10 minutes telling us why should we care about these characters, rather than creating trilogies for each character and convincing us to care about the characters."
Indeed, the character introductions in Suicide Squad were perhaps the most difficult thing to pull off, especially when they're villains who are supposed to become makeshift heroes striking a bond with each other by the end of the movie. But the backstory of all these characters was so haphazard and choppy that most viewers couldn't buy a character like Diablo sacrificing himself so he doesn't lose another "family" like he lost his real one. Pratt went on to reiterate why Marvel Studios seems to be having more success in building their universe:
"It's like hardwood. They grew it really slowly so it's strong. They didn't create 'The Avengers' first. They did 'Iron Man'. And they tested it to make sure it worked. Then they did ['Iron Man II'] and ['Iron Man III'], then they did 'Cap,' and then they did 'Thor.' And they created a thirst for these characters, and that's when they put them in 'The Avengers.'"
While I don't think that each of the main characters in Suicide Squad necessarily needed entire trilogies to make us care about them, perhaps having fewer characters like Pratt says would have made that task a little easier. After all, we're talking about a movie that is supposed to focus on the worst of the worst, but one of the characters is Slipknot, whose special skill is being able to climb anything, and has the sole purpose of existing so he can merely be killed off as an example meant to scare the rest of the team. We didn't need that, and we certainly didn't need Katana in this movie either.
Perhaps if Suicide Squad only had a team of five villains, not unlike how the first Guardians of the Galaxy had five heroes, director/writer David Ayer would have had an easier time keeping the story focused. That more focused ensemble cast allowed the movie to connect with audiences, and now it looks like Guardians of the Galaxy Vol. 2 will expand that roster of characters now that they have the trust of fans.
Instead, Suicide Squad has six villains that you're meant to be invested in as a team, not to mention their target, the Enchantress, who requires saving because their military leader Rick Flagg is in love with her human alter ego. And that doesn't even include Amanda Waller and the Joker, who are both key parts of Suicide Squad.
Surely, this is something that will be endlessly debated, but I think Chris Pratt makes a fine point, and it's something that fans noticed themselves, even those who have liked the DC Extended Universe movies more than those who are a bit more critical of them.
What do you think?