Chris Pratt On 'Captain Marvel' And Renewing His Contract With Marvel Studios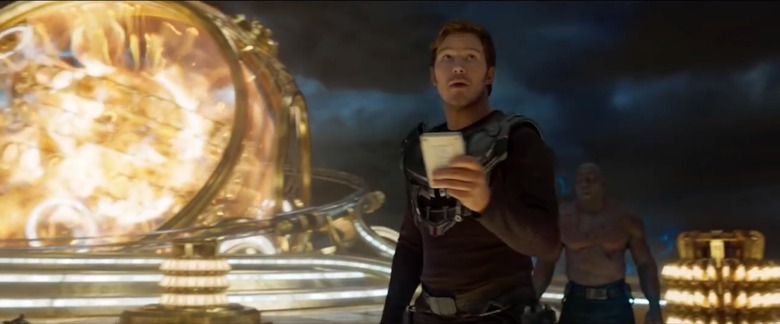 Marvel Studios changed the game when they signed Samuel L. Jackson to an unprecedented nine movie deal back in 2009. Since then, keeping track of how many Marvel movies different actors have left on their contracts has become a minor hobby for some fans.
Last week, I sat down with Guardians of the Galaxy Vol. 2 star Chris Pratt, and while our full conversation is still forthcoming, I wanted to share a couple of his comments about whether or not he'll appear in Captain Marvel, whether he'll renew his contract with the studio, and Star-Lord's future in the Marvel Cinematic Universe. Read the Chris Pratt Marvel contract details below.
Most of our conversation was focused on Guardians Vol. 2, but as our interview wrapped up, I asked the actor about his future involvement with the MCU.
Are you going to be in Captain Marvel?
Pratt: I don't know.
Do you know how many movies are left on your contract?
Yes.
Can you tell me?
I'll tell you, as much as I love Marvel, it doesn't matter how many I have contracted, because I'm going to continue to work with them.
I was going to ask if you were interested in re-upping when your contract expires.
Totally, dude. I want to – I love working with them. I'm going to continue to work with them whether they like it or not. Even if they write me out, I'm going to show up on set and be like, 'Hey, man!' They're done. They don't get to shake me.
***
Breaking news: actor in successful franchise wants to remain in successful franchise! Not super surprising. But we never knew exactly how many films Pratt signed on for when he first joined the MCU, so his comments are good news for fans who love his portrayal of Star-Lord. Pratt's response also gains more significance in the wake of some recent statements from architects of the MCU like James Gunn and Kevin Feige.
Gunn – who is returning to write and direct Guardians Vol. 3 – has said that his trilogy will tell one complete story featuring these characters, and the third film marks the ending of this iteration of the Guardians. Meanwhile, Feige has said that "what happens after [Infinity War] will be very different" for the whole interconnected franchise. We still aren't entirely certain what that means, but considering Guardians Vol. 3 takes place after Infinity War, it's a good bet that Star-Lord survives the battle with Thanos if Pratt is talking about renewing his contract.
Unless, of course, if what Feige means by "very different" is that all of the heroes Thanos slaughters in the Infinity movies will appear as the MCU's equivalent of Force ghosts in future films. I can see it now: dead heroes Peter Quill, Tony Stark, and Steve Rogers occasionally popping up to haunt rookie members of the Avengers like Doctor Strange and Black Panther. Sounds like a fresh new direction to me!
All kidding aside, it's fun for us to talk about this contract stuff and speculate about what the future might hold for these characters. I'm wondering if maybe Peter Quill leaves the Guardians team after Vol. 3 and returns to Earth, possibly as an official new member of the Avengers. What do you all think?
Guardians of the Galaxy Vol. 2 arrives in theaters on May 5, 2017.