Netflix's 'Outlaw King' May Reunite 'Hell Or High Water' Stars Chris Pine & Ben Foster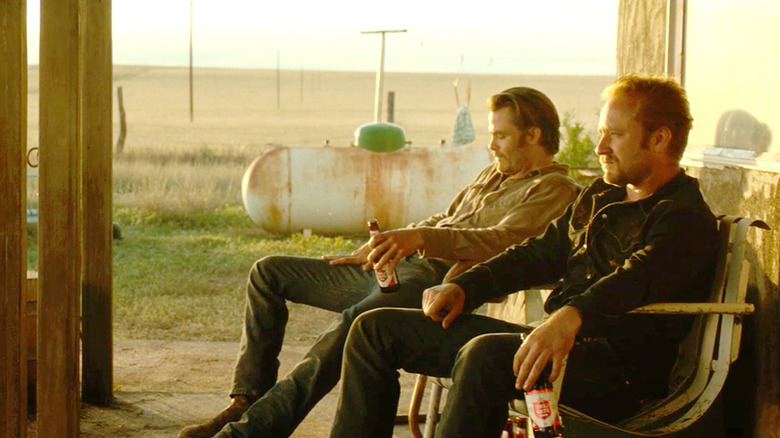 David Mackenzie's sweaty western heist film Hell or High Water was ripped straight from the headlines last year, depicting the aftermath of the mortgage crisis as a Robin Hood-style revenge thriller. It resonated with audiences and critics alike, earning four Oscar nods and catapulting Mackenzie to a higher level of recognition.
For his follow-up film, Mackenzie is looking to reteam with stars Chris Pine and Ben Foster for Outlaw King, an "epic period drama" about Robert the Bruce. And yes, before we go any further, Pine is in talks to play the Scottish king. Take a second to let that sink in.
According to Deadline, Mackenzie will direct Outlaw King for Netflix, Pine is finalizing his deal to play the warrior king who led the Scots to freedom from English rule, and Foster is in talks to play James Douglas, a knight who became the king's trusted adviser.
I'm a big Chris Pine fan, and while he's always great leading the Star Trek movies as this generation's Captain Kirk, my favorite Pine performances are when he plays more off-kilter supporting characters. He was the surprising MVP of Disney's Into the Woods musical a few years ago, and he delivered a delightfully unhinged piece of work in Joe Carnahan's low-budget Stretch. But playing a Scottish king? That may be asking a bit too much from him – and again, I'm saying this as a fan.
Robert the Bruce appeared in Mel Gibson's Braveheart, eventually leading Scotland to freedom following William Wallace's death, but he didn't exactly come off like the national hero the actual Robert the Bruce is considered by his country today. In Gibson's film, Robert betrayed Wallace directly – something that didn't happen in real life. This movie looks to reframe the character in our eyes, telling the story from Robert's POV as he "casts aside the comfortable trappings of his upbringing to stand up for his countrymen in a long campaign." Deadline elaborates:
He defied the Brits and the Catholic Church and ruthlessly consolidated rule among the squabbling noble elite of Scotland, finally rallying the forces necessary to turn back Edward II's considerable armies to free Scotland. There is also a major love story in the film, between the king and his Queen, Elizabeth de Burgh, daughter of an England-friendly Irish noble who helped Robert The Bruce form the backbone needed to eradicate the Brits.
This sounds like a true home-grown production, too: filming is set to begin in Scotland this August, and Mackenzie and producers Gillian Berrie and Richard Brown are all Scottish natives. Yep, that means a Scottish guy directed one of the best American westerns of the past decade. Here's hoping he can do one of his own country's heroes the same justice he did to one of America's most classic film genres.